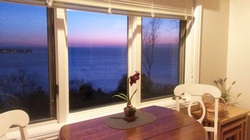 Finding time to go on vacation is tough. Finding time to go on vacation when you own a business is really tough. Finding time to go on vacation when you are the only person running a business...nearly impossible!

It's not impossible, but in the bakery business, going away means inevitably making a customer mad and crossing your fingers people can understand that EVERYONE needs some time off to relax. Before going on vacation I posted on social media several times to warn people I would be gone. "Please order ahead...from April 12-15 no orders will be filled...etc." But not everyone has Facebook, and not everyone sees my posts. With increased orders I have tried to push the "order a week in advance" rule. However, the only way to make that rule work is to enforce it...and I'm terrible at enforcing it! That being said, I have some very packed summer weekends coming up so this rule will have to be followed.

While I was gone I did get emails and calls from people trying to order and I did my best to send out a saved message I had explaining I was gone and hope that I did not upset anybody. If anyone has tried to contact me, you know that I do my best to respond ASAP (unless I am sleeping). So my customers aren't use to me being unreachable. I like being easily reached by customers, but am trying to pull back and limit access on nights and weekends, because I too need to unplug. Which is why this vacation was so needed for me.

Now onto my vacation! My husband and I have never been to Door County so this was our first trip. Neither of us is too big on crowds (my husband really hates them) so we went during the "quiet" season. Here's an inside look at our stay!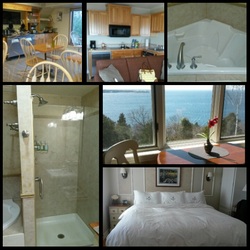 Bay Point Inn
The options are limitless when it comes to finding a place to stay in Door County. After endless searching, my husband and I couldn't have been happier with our choice. We chose to stay at Bay Point Inn. This place only has 12 individual rooms (they feel and look like apartments), a lobby and a parlor-top left in the photo-where you have breakfast. We had the place all to ourselves! There was nobody else staying here while we stayed, which made the experience even more personal. Instead of a continental breakfast, we got to decide what we wanted for breakfast the night before and have it ready at whatever time we wanted in the morning. Innkeeper Myles makes a mean Belgian waffle! And did I mention the view?! The sunset at the beginning of the post was from our first night there. We had the Treetop Suite-known for the best view. There was a view of the lake out our living space and out our bedroom window.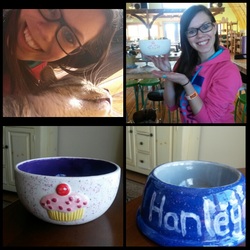 Hands on Art Studio
This was the very first thing we did after checking in. Even though it was the first thing we did, it was my personal favorite! If they would have been open the rest of the week, I could have easily spent all three days here doing something. You can create metal art, paint spin art, mosaic tile art, jewelry, or paint clay work. We chose to paint clay since it is something I have always wanted to do...and because I immediately spotted cupcake pieces! You can take the girl out of the bakery, but you can't take the bakery out of the girl. I painted a cupcake bowl and my husband painted a new water dish for our cat and dog (the cat's name is Smudge and it's on the other side of the dish). I still can't get over how different the colors look once they have been fired in a kiln! So cool and so much fun.

By the way...that's not my cat! I absolutely love animals and instantly attach to any new critter I meet. This sweet girl was wandering around the studio so I pet her, she drank some water from our table and then went to sunbathe on the other end of the room. So naturally, I had to go take a selfie with her!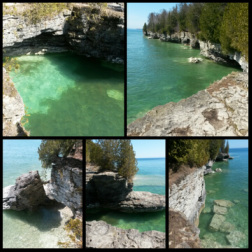 Cave Point County Park
There are plenty of State Parks to see in Door County, but do not overlook the County Parks. Cave Point is a MUST see. This place is beautiful...look how clear the water is! The waves crashing into these rocks has created caves all along the shore (hence the name Cave Point). It is hard to describe just how cool this place was, so I'll just keep it simple. If you are in Door County, make the trip here. It's free! If you are scared of heights, you might want to enjoy the view from a few steps back, but if you are like myself and my husband, go ahead and bend right over the edge of the rocks!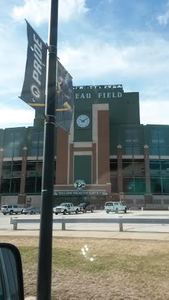 Lambeau!
On the way home we made a pit-stop at Lambeau Field for a tour. We had a great tour guide name Grant who filled us with lots a little tidbits of history and knowledge. My favorite part: (if you've ever been on the tour you probably feel the same way) walking out of the tunnel with the "crowd" yelling as you come out. Not going to lie, I had a tiny little bit of hope that Clay Mattews or Aaron Rodgers would pop out at any moment. But no such luck. At least I got some new Packer apparel!


Thank you for another week of orders and thank you all for understanding that I too need a vacation every now and then.