One of the best things about owning Steph's Sweet Treats is getting the chance to network with new people and connect with customers. I have had the chance to do events like Off the Vine and bridal expos before, but this year's events are getting bigger and better. Part of the reason I have had the opportunity to take part in some of the events and meet more people is because I joined the Dodgeville Chamber of Commerce. It has been nothing but a great experience and I can't wait to see what else the new membership brings by way!
Grilled Cheese Championship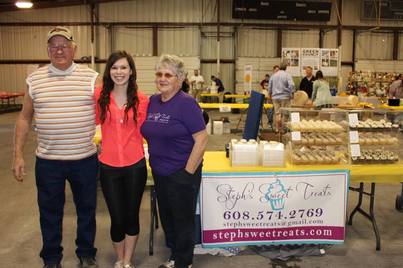 Photo courtesy of Sue Reukauf
Did you make it to the Wisconsin Grilled Cheese Championship? Over 2500 people did! Including my Grandpa and Grandma Carley (pictured above). Before I get into the Grilled Cheese Championship, I want to take a moment to talk about my grandpa and grandma Carley. I cannot express how supportive, loving, and amazing these two are. They have always been a very important part of my life and still are to this day. Whether it was watching me test for a belt in karate when I was a kid, coming to games in highschool (to watch me cheer not play), or driving all the way from Richland Center to grab a cupcake at my open day or see me set up at an event as an adult. Even if they aren't coming to Dodgeville to stop by my shop, my grandma still makes sure to wear her Steph's Sweet Treats shirt whenever she is in the surrounding area. Thank you so much for the support grandma and grandpa. I love you!!!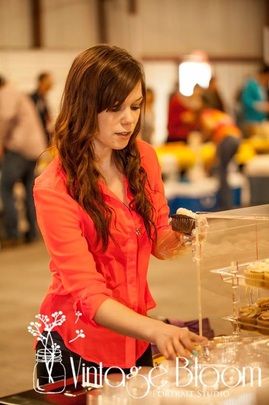 This was my first year attending and vending at the event and I can't wait for next year! If you don't know about the event, here are a few tidbits: Held at the Ley Pavillion at Harris Park; put on by the Chamber of Commerce; a variety of cheese vendors, local vendors, and restaurants set up; nine rounds of grilled cheese competitions ranging from amateurs to professionals; music, beer, and a lot of people!

The amount of people coming through was crazy, but even more importantly, meeting new people and getting my cupcakes to new potential customers was great. The line of people was exciting and seeing toddlers clap for cupcakes touched my heart.

I was completely lost for how many customers to expect so I came with around 350 cupcakes. I ran out at 2:30.....the event went until 4! Running out of cupcakes is ALWAYS the goal, so I was happy to run out, but definitely should have made more.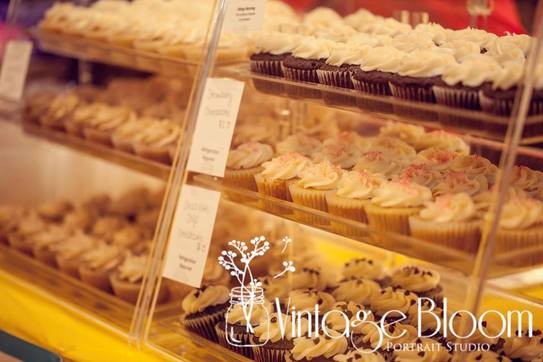 Vintage Bloom Portrait Studio took pictures of the Grilled Cheese Championship and provided the last two photos for me to use. They are located at 117 N. Iowa St. in Dodgeville. 608-334-2499
Ladies Night
Ladies Night wasn't an event put on by anyone and isn't something that I have done before. I was approached by someone who wanted to buy cupcakes for a Chloe + Isabel pop up shop. She asked if I would be interested in having a party of my own. I was interested, and thought it would be great to make a night out of it. I knew some other women who sold Norwex and Perfectly Posh products, so I asked them to join.....and Ladies Night was created!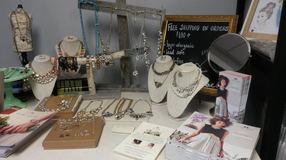 Chloe + Isabel

This was my first time hearing about
Chloe + Isabel
jewelry and I am very impressed with it. They have great quality and price. They even have a new bridal line! One thing I particularly liked was their convertible necklaces. You can wear them all at once, or individually. It's like getting four different pieces of jewelry for the price of one! Click on the link below for more information/to order from my vendor.
https://www.facebook.com/candibycarissamenke/timeline?ref=page_internal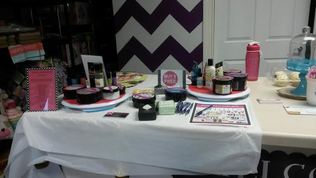 Perfectly Posh
Want to pamper yourself with natural products that are made right here in the USA? Then you want to check out
Perfectly Posh
! These body products have no parabens, sulfates, paraffins, fillers, or lanolin, and are instead full of natural butters and essential oils. I got a few samples before the party and fell in love with the Hot Pepper ShaBang Butter. It's for muscle aches and pains so I rubbed it on my feet after some long 14+ hours of standing at the bakery. (I should really sit down once it awhile!) Usually after a day like that my feet would hurt within an hour of waking up the next day. If I use the Hot Pepper ShaBang Butter after a long day, the next day I can make it to the afternoon before my feet and legs start aching. Then I just put more on and I'm good to go! I ordered A LOT of different items and I am positive I will love them all. Click on the link below for more information/to order from my vendor.
https://www.facebook.com/groups/745875962198518/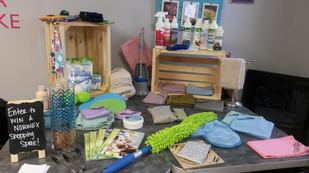 Norwex
I recently made the mistake of googling how bad most cleaning products are for you..yikes! After being horrified by some of the information I found, I started making my own cleaners with essential oils. I love what I have made so far, but still wanted something for laundry, dishes, dusting, etc. That's where
Norwex
comes in! I have been dying to try the products. Ladies Night was the perfect opportunity to learn more and get some goodies. If you too want to reduce chemicals in your house I highly recommend Norwex. When you use one of their microfiber cloths to clean, all you need is water!
Click on the link below for more information/to order from my vendor.
https://www.facebook.com/KaylaMeuer.norwex.biz?fref=ts
Ladies Night didn't draw as big of a crowd as I expected (since there were a lot of people interested), but it was still a success. It was my first time doing it, but I hope to make it a yearly event. I am even thinking of doing it twice a year. Spring would be for independent consultants (like Chloe + Isabel, Perfectly Posh, and Norwex) and Fall would be for locals who make and sell items. I already have some good people/products in mind for Fall!

Thank you for another week of orders!