Last week I gave you a peek into my life, so I figured this week you should get a peek into my kitchen! This is my official home away from home. Take a look!



The Mixers
Let me introduce you to Cupcake, Daisy, and Sprinkles....my 8qt commercial grade Kitchenaid mixers :) Guys name their cars; I name my mixers. Not sure how the name Daisy squeaked in there, but it was the first thing that came to my mind when naming them, and I wouldn't dare change her name on her now. The bad boys (or girls) are where all the magic begins. When I started baking I never had a Kitchenaid. I relied solely on my arms of steel to do all the work. Ha! My mom got me my first Kitchenaid; a cornflower blue artisan to be exact. There are days where I have all these ladies whirling at once!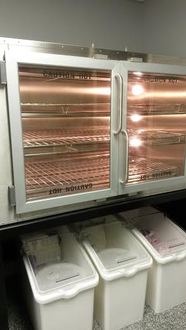 The Oven
I can't say enough good things about my oven. I absolutely love it! I was terrified when opening my bakery about using a big convection oven. They can be a real learning curve, but not this one! This oven has gentle convection and each individual rack has it's own heating element. What does that mean?! Even heat! Music to a baker's ears. Wait...it get's even better. It's made in the USA! This oven was made by a family owned company in Florida. Due to recent family health and hardships, the company has sadly had to close its doors. On the bright side, the family still makes replacement parts. Upon hearing they were closing I made sure to email them to let them know how truly amazing I think their product is. This oven is use to being fully loaded with 144 cupcakes at a time. It can fit more...but I have short arms so there would be a lot arm burns going on.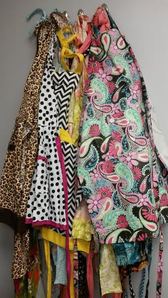 My Obsession
So....I may have a problem. I'm obsessed with aprons! A lot of the time I won't even see anyone while I'm baking, but I still feel the need to wear a cute apron (and coordinate the undershirt of course). I attempted to count my aprons....there's more in my hallway...and I think there's 30 of them. That doesn't seem like nearly enough aprons considering there's 365 days in a year. So I will continue on my hunt for more adorable aprons! :)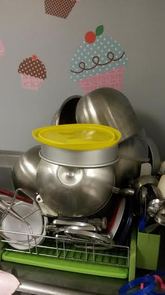 Dishes, Dishes, and More Dishes
First, let me mention what an amazing dish stacker I have become. I mean seriously...look at that! This isn't even my most impressive stack. One wrong move and it becomes a very loud game of Jenga gone wrong and water splashing. I have a very large, deep three compartment sink to carry out the washing, rinsing, and sanitizing process for all these lovely dishes. Let's be real. Doing dishes is no fun! Thankfully, my husband has taken over most of the home dishes. I think I earn my keep doing the bakery dishes don't you?!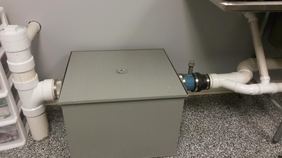 The Grease Trap....
Let's talk about the grease trap....Owning a bakery isn't all glitz and glam. There's a little (or big) thing called the grease trap. All commercial bakeries and restaurants need grease traps to intercept fats as used water goes back into the town water supply. What happens to these fats? In my case, I get the pleasure of cleaning them out. Not going to lie, it's my very least favorite day of the month. Big restaurants and bakeries usually hire companies to do this unpleasant task, but I'm such a small scale bakery, I do it myself. Thankfully, I do it with the help of my husband, who has taken on the worst parts of the process :)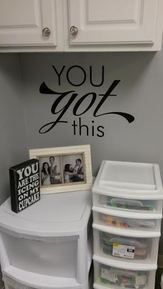 A Touch of Home
This little corner of the kitchen is where I put a few things to recollect myself. When I've been baking and decorating for 12 hours with no end in sight, sometimes I just need to turn around and see my "you got this" sign. I can take a deep breathe, look at the wedding photos I have under it, and know that every minute of work is worth it and I can get through it...and I'll do it with a smile on my face and joy in my heart for all the orders I get to fill! Whenever I need a little encouragement I just look at this wall.
Cheers to another week and another week of orders! Stay tuned in for next week's post :)