The last month has been very busy at the bakery and things are only looking busier for the coming months (with graduations, showers, weddings, etc). So first, let me say THANK YOU, once again to my amazing customers! With a very busy time of year coming, I thought it would be appropriate..and hopefully interesting...to talk about what goes into keeping the bakery stocked and what I do to prepare.

April has turned out to be busier than expected. I happily took on two last minute weddings; combine this with my open day and two events (will post about these events next week), and that means a major depletion in supplies. I buy my bulk supplies like sugar, flour, butter, powdered sugar, cream cheese, etc, from Sam's Club. I can get all these supplies in Dodgeville, but in order to keep prices as low as I can, I need to get a good deal.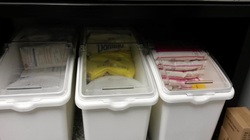 This is what my bins look like when they are fully loaded after a supply run. I have one more big bin, but it's not lined up with these ones, but it holds some of my other random supplies. Last Friday I had only a few bags in the left and right bin, and absolutely nothing in the middle bin. And I mean NOTHING! By some miracle I had just enough sugar to fill my orders, but I did buy a little tiny bag locally in case I needed it for anything before my Sunday Sam's Club run.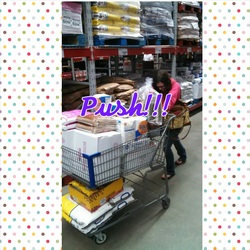 Ingredients
This was my trip to Sam's this past weekend. It may not look like a lot, but that's only because my husband was determined to fit it all in one cart, so we packed it in! A few stats on the cart: 100 lbs of sugar, 72 lbs of butter, 112 lbs of powder sugar...just to name a few. I'm hoping this will last me through a good part of May. Hoping...but running out early only means more orders. So I'd be happy as a clam!

I get my milk and eggs from Kwik Trip. So being located across the street from them is extremely convenient! All my other ingredients that I don't necessarily need in bulk, or items I can't get at Sam's Club, come from one supermarket or another. I also have a few items, like cake flour (used in some specific recipes), which I order.

One of my most expensive ingredients....vanilla! I'm a stickler on my vanilla...never artificial...and it runs me over $100 a gallon. Ouch! But so worth it. You'd think a gallon would last me awhile, but I am going on my third gallon for the year.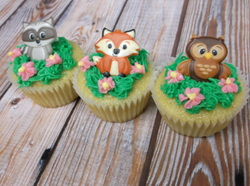 Decorations and Packaging
Trying to predict what I will need for decorations is really tough. I have two main bakery suppliers I use for decorations, and licensed products. For both companies I have to spend certain amounts to make the shipping worth it. I do my best to keep a little of everything on hand, but it's nearly impossible to predict what every child will want for their birthday parties or what theme will be popular for baby showers. When I do get a request for something I don't have on hand, I do my best to get my hands on it as quickly as possible.

Packaging is a little easier to plan for, but I still need to keep a close eye on everything since there are so many different items to track. 4 packs, 6 packs, 12 packs, cookie containers, cake boards ( 7in, 9in, 10in, 12ich, 1/4 sheet, 1/2 sheet...), coordinating boxes for all the board sizes, extra tall boxes, etc. I buy boxes a 100 a time and plastic cupcake containers anywhere from 100-300 at a time. I have to get at least 300 12-packs at a time because I use them the most. Shipping on the cupcake containers is enough to make you cry. Trust me, I've done plenty of research to get the best deal. Even with the astronomical shipping cost, it is the best deal I can get, even if it doesn't feel that way. Oh! Let's not forget about the cupcake liners. I get those 10,000 at a time. I just ordered 10,000 more....any guesses as to how long they will last me?!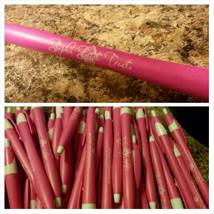 Miscellaneous
Needless to say, a day without the UPS man showing up is rare. There's always something to be ordered. If its not decorations, packaging, or supplies, it's menus, brochures, business cards, (maybe an apron or two), fondant cutters/tools, new cupcake displays, pens, or stickers. I have new packaging stickers on the way and even though they will cost me more than the address labels I currently use, they will look way more professional and I will no longer have to put 1-3 stickers on your packages. I will only have to use one!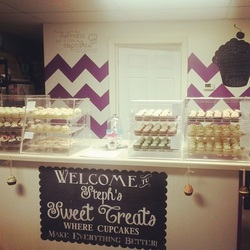 Guessing Game
I try to stay well stocked on all my materials and supplies. Last week was actually the first time I have ran so low on ingredients and that was only because of the unexpected wedding I booked. My solutions to the amazing increase in orders is to stock up, and stock up some more!

My monthly open days are very hard to plan for! It's a total guessing game. The goal is to always sell out. Did I mention how amazing my customers are at making that happen?? I want to sell out, but I don't want to have so few left by the afternoon that people don't have much to choose from, and I don't want so many left by the afternoon that I can't sell them. I feel terrible when I run out or don't have much of a selection in the afternoon, but for the most part people are very understanding and even congratulate me. Now that's a great feeling!

In the recent months I have gradually increased the number of cupcakes I make for each open day. But that's not always the case. November, December, and January were slower for the open days because of holidays, and February was huge because of Valentine's Day. So there is always something to consider. Curious as to how many cupcakes sold on the open days this year?

January- 351
February-959
March-557
April-642

So now I have to decide what to make for the May 8th open day! So far I have sold out during all the 2015 open days. I really hope to keep it going! With Mother's Day two days after the May open day I will probably shoot for 750 cupcakes (plus some cakes and cookies). However, for the summer months I will probably pull back on numbers a bit because people are gone on vacations a lot. I will continues to do my best at guessing!

Thank you for another week of orders and I hope you enjoyed learning a bit more about stocking up!