Self doubt....I'm sure everyone has it at some point in their life, but I've struggled with it a lot since opening Steph's Sweet Treats. There's no obvious reasons for the self doubt (like someone bashing me..at least not that I know of), it's more of a subtle thing that creeps up every once in a while. I've had people doubt me, think my business won't last, or think I'm only busy because I'm new in the area so of course people are ordering...they just want to try it. So the self doubt creeps in and in the back of my head I hear all these people saying "I told you so."

Instead, I need to take a moment, stay posititve, and follow the two quotes I have in my shop: "Keep Calm and Have a Cupcake" and "You Got This."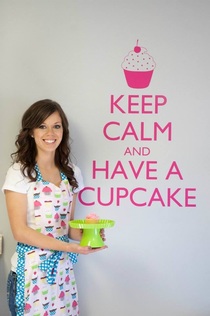 Photo by Kelsey Jean Photography
Some of the smallest things can bring on one of these self doubt episodes. For example:

-Having a weekend that isn't completely packed with orders. I've become use to Fridays being crazy busy with orders...so when there's a weekend with only a few orders, it gives me pause. Instead of beating myself up about it, I have now learned to try to embrace the little break.

-Seeing my competition break copyright laws on the regular. I know I talk about copyright law a lot...so sorry to be repetitive, but it is definitely something that can hurt my business. If I refuse to break the law through a Bucky Badger cake or a fondant Olaf toppers, and the customer doesn't want any of the legal options I give, they will go to someone who will. (Happens almost weekly) Combine this with me seeing my customers comment on (or order) another bakers illegal cake, and I get a very bad feeling in my stomach. I guess this isn't exactly self doubt, because it's not like I'm doubting whether or not I should also break the law (won't do it!), but it is something I have to constantly struggle with. No matter how many times I talk about it, it's not going to stop others from making them or prevent customers from going elsewhere...and that's a bad feeling!

-Doing a wedding tasting where the couple doesn't book or having a customer not order after making an inquiry. I get it...I'm not the only baker around and I should not take these things personally. I mean people get quotes from construction companies, floor companies, etc. all the time. So why would I doubt myself when someone goes elsewhere? I shouldn't! But it is oh so hard not to! The area we live in can also make it tough for small local businesses (as I'm sure you other business owners know) It's hard to compete with big box stores...it's not possible for me to sell you a cake for $10 without going under in a hurry. Thankfully I have customers who value my work and baked goodies and come back time and time again and are more than happy to spread the word/promote me.

Now please don't think I get upset every single time one of these things happens or get mad at someone who doesn't order from me. It's more of build up that leads to me having a minor freak out or just a bad day that brings me down. And overall, it's not about those examples I listed above...it's about my own natural self doubt. What do I do when these terrible feelings of self doubt creep up?? If I'm being honest....I cry and/or get really down on myself. But only for a little bit! Thankfully, I'm getting a little better at believing in myself....but I have my days....and I have an amazing husband who is right there to squash those doubts. I am incredibly lucky to have Steph's Sweet Treats and the self doubt is only natural (at least that's what I tell myself) I can't imagine life without Steph's Sweet Treats and hope to never have to.




A few amazing reviews from Facebook-names removed
Reading reviews from customers or looking at pictures customers send me is one of the best cures/pick me ups. I like to keep emails and messages from customers who randomly tell me how good something was or how great their experience was. I also like to go through Facebook reviews and my customer experience album. It always puts a smile on my face! Please feel free to send me pictures and feedback anytime!

I don't want this post to come off as a pity party or force a guilt trip on someone for ordering from someone else. I am thankful for each and every order I get. I just want to shed light on something I think a lot of people probably struggle with. Like I said, everyone goes through moments of self doubt, but I think it's probably heightened for business owners. Everyone wants to succeed..nobody wants to fail....and for me, I worry about those people dying to say "I told you so."

Thank you thank you thank you for another week of orders! Graduation weekend was crazy (AKA awesome).