If you have ever seen me in my every day life there's a good chance I was wearing a Steph's Sweet Treats shirt of some kind...I'm actually wearing one as I type this! Not because I feel the need to walk around promoting myself all the time (but it is good advertisement!), but because I love the shirts so much. They all come courtesy of Hollie at
Olly Olly Oxen T's.
If you need custom apparel, bags, hats, etc. you need to check them out. I was in no way asked or compensated to do this post. I just want to brag about their products and services...and of course make you aware that you too can have an awesome Steph's Sweet Treats shirt!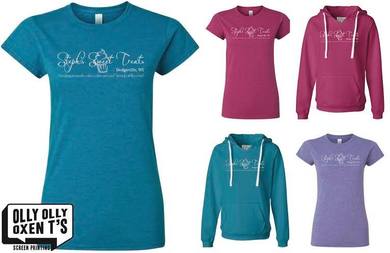 The above shirts and sweatshirts were my first order with Olly Olly Oxen T's. Hollie takes your ideas, wants, or needs and creates these great mocks ups so you can see the product before it's made, and promote it to others. My first order was the basic Steph's Sweet Treats logo. From here I became addicted! First of all, the shirts and sweatshirts that were suggested to me are super soft and comfy...so of course I want to wear them everyday! Secondly, I just think it's cool to have shirts that say Steph's Sweet Treats. It reminds me that this is a real business....because sometimes I look around my cozy building and just smile because I can't believe how lucky I am to be doing this.

When I order shirts I usually promote them in the basic colors from my logo (aqua, pink, and purple), but I myself order one of everything. I have a stack of t-shirts, sweatshirts, and long sleeves in almost every shirt, design, and color. I'm going into another round of ordering so my collection is about in go up...again!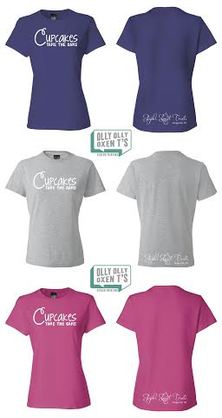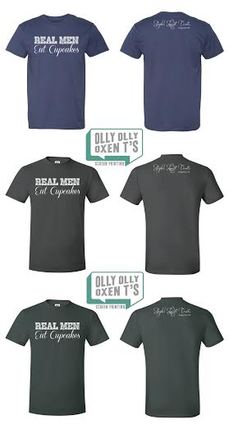 These two shirts were the second designs I got from Hollie. I told her the two sayings I wanted (one for men and one for women) and she came up with these beauties! Womens shirts: "Cupcakes Take the Cake" with Steph's Sweet Treats on the lower back. Mens shirts: "Real Men Eat Cupcakes" with Steph's Sweet Treats on upper back. What I love about these shirts, besides how cool they look, is that they are attention grabbing. My father-in-law and brother-in-law have both had people say something or start conversations about their "Real Men Eat Cupcakes" shirts. Attention grabbing shirts are a great way to spread the word about Steph's Sweet Treats.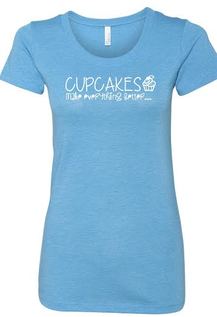 I've been itching for more shirts...even though it hasn't been that long since my last ones...so I contacted Hollie for a new women's design! If you've been to my shop recently you've probably noticed the new sign on my front counter stating "Welcome to Steph's Sweet Treats Where Cupcakes Make Everything Better." So I thought why not make a shirt based off of it?! The new women's shirt design is pictured above. It will have the Steph's Sweet Treats on the lower back just like the "Cupcakes Take the Cake" shirts do.
I have some shirts available for customers to buy in my shop, but not a huge selection of sizes and not every colors in every size. The best way to get the shirt you want is to order one. Right now I'm putting together an order...so if you want a shirt, now is the time to order! Here is what I'm offering:
Women;s design: Cupcakes make everything better, with Steph's Sweet Treats on the low back.
Colors: pink, aqua, or purple
Price: $10
Men;s design: Real Men Eat Cupcakes, with Steph's Sweet Treats on upper back.
Colors: pink, dark blue, or charcoal gray
Price: $9
Sweatshirts: Steph's Sweet Treats logo. This sweatshirt is technically a men's sweatshirt, (not the sweatshirt posted in the first picture from above) but I think they are great for men and women.
Colors: Oxford gray, pink, turquoise
Price: $30
Bags: Zipper top 18"x13" tote bag with Steph's Sweet Treats logo.
Colors: Hot pink or gray
Price: $8
How many times to you buy a shirt on vacation to represent a good time or for the memories? I don't know about you, but I do it all the time. So why not do it locally? If you like a business, having an item that represents them is a great way to support the business by advertising them every time you use or wear it. I don't make a profit off of these items. I sell them for exactly what Olly Olly Oxen T's sells them to me for. I cover the tax myself because everyone who wears a Steph's Sweet Treats shirt or sports around a bag is supporting me, which I really appreciate!
If you want to order, send me an email, contact me on
Facebook,
or call me. I get pretty impatient when it comes to ordering...because I just want them now...but I will wait a few weeks so people have time to contact me.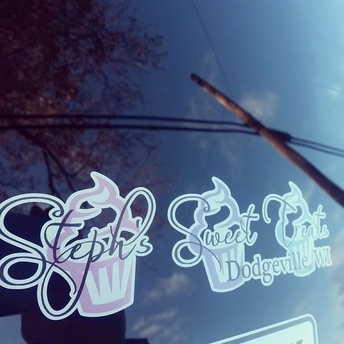 I do have a few other Steph's Sweet Treats things for customers (besides shirts). I have the window decals shown above-also designed by Hollie-$2 and pens-free when you come into the shop. I might make a Steph's Sweet Treats calendar of some sort for 2016....so keep an eye for the those! You could look at yummy Steph's Sweet Treats goodies every day on the wall of your home or office!

Order your Steph's Sweet Treats garb today and thanks again for another week of orders!