So this blog post has NOTHING to do with baking, but it's fun and part of my life...so I hope you enjoy it! Any men out there, don't be scared off by a clothing post. Stitch Fix could make a great gift for someone in your life!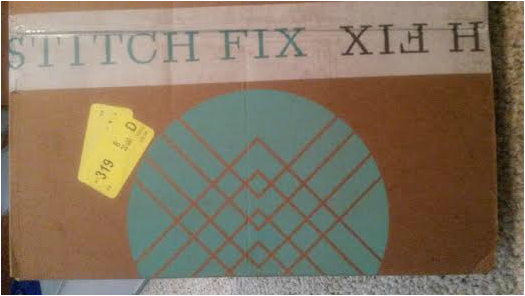 Have you heard of Stitch Fix? If you haven't, don't think you've been living under a rock or anything...I only heard about it around a year ago and it has been around for quite a while. If you don't like shopping, want help figuring out what looks good on you, or you just want to get some really fun items, Stitch Fix is the way to go. Please note that I was not paid by Stitch Fix in any way to do this post/review. If you want to give a try yourself,
click here
for my referral link.
What you need to know about Stitch Fix:
-You fill out a detailed style profile of your likes, dislikes, sizes, how much money you prefer to spend, etc.
- You choose how often you'd like to receive a fix. Each time you can ask for specifics if you have something specific you want, or have an upcoming event to attend.
-A stylist chooses and sends you five items based on your wants, style profile, fashion pinterest boards, etc. Items can include clothing and accessories.
-You pay a $20 styling fee for the fix, BUT if you keep something from you Stitch Fix the $20 is credited towards your total. So the only time you "lose" $20 is if you send everything back. Bonus: If you keep all five items you get 25% off everything!
-You get three days to try on your items and decide, then you checkout online and send back what you don't want in the prepaid shipping bag you get with your box.
Now lets get on to what I got in my box this month! I have my fixes set up to arrive every other month (but sometimes I bump them up....because I get too excited and impatient).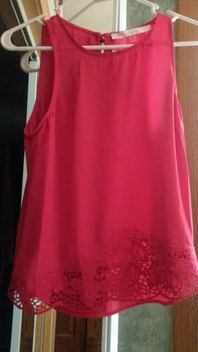 Charles embroidered trim blouse by Fun2Fun. I love the idea of this top...crochet bottom, loose fitting, keyhole in the back, but it just didn't fit me right. The bottom looks like a high-low shirt, but I don't think it's supposed to be! So it will probably have to go back. I say probably because the rest of my fix is pretty cool and that 25% discount for keeping all five items would make it worth it.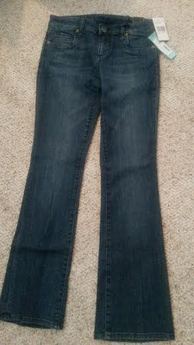 Simmons bootcut jean but Kut From the Kloth. I was beyond thrilled to see these in my fix because I specifically asked for a lighter wash bootcut Kut From the Kloth pair of jeans. And my stylists listened! I am amazed at how great jeans from Stitch Fix fit. I absolutely hate finding jeans that fit right. I swear Stitch Fix jeans are magical jeans. No matter what they send me, they seem to fit and are comfortable. Yes...I said COMFORTABLE jeans! In my closet they go!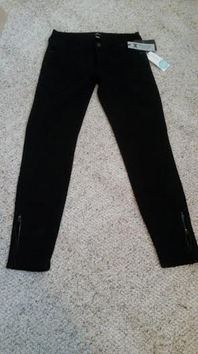 Dean ankle zip skinny jeans by Just Black. First, let me say these are made in the US which automatically puts them on the awesome list for me. I've noticed Stitch Fix uses several US brands and that makes me love it even more! Second, my stylist listened to me on these too. I asked for skinny jeans or jeggings that were comfy and stretchy in black, white, or mint (since I would eventually like to have all three), and they sent me these. Fit like a glove and I'm pretty sure I could do yoga in them... they are that comfy. For sure a keeper!

Shay maxi dress by Gilli. My stylist once again gave me something I wanted. I asked for a maxi dress that would fit my short frame. She noted that this dress may be a little too long, but would be a great length if paired with wedges. Did I mention the stylist puts together outfits for each item too?! The dress fit great, and I thought the length was good as well. The pattern on the bottom is unique, which I like. The only thing throwing me off about it right now is that I am pale as a ghost so the light gray isn't very flattering. Hopefully I won't stay a ghost all summer....so at this point I'm putting this in the keep pile.
Minna crew neck top by Le Lis. I like the pattern, weight, and color of this shirt, but I'm just not sure how much I would wear it. I really don't get to wear anything other than a t-shirt, sweatshirt or apron two days a week...and that's if I decide to get out of my sweats on Sunday :) But, like I said before, if I keep all five items I would get a discount and would probably end up wearing the shirt. Undecided about this one.
Overall, I was VERY happy with this Stitch Fix. I didn't have a good box last time, but I think I found a stylist I really like. I had one that I thought I liked, then she went on vacation...and I got this one. So I will be asking to keep my stylist when I add a note to my next fix. When you checkout after getting your items, you get to review each item and leave notes about the items so the stylist gets an idea of what you thought. Then, you can leave the stylist a note about anything you want next time.
Getting a fix in the mail is a little like Christmas on your doorstep instead of under a tree. Even if there are items you don't care for, seeing what's inside is always fun and you get to send back what you don't want for no charge! I've also noticed that some of the things you assume you won't like, you really like once you get them on. It really opens your eyes to new styles. Try it for yourself
here
. Let me know what you think!
Thanks for another week of orders and I hope to see you all at my open day Friday!