It's Stitch Fix time! If you haven't joined Stitch Fix yet....getting one of these boxes at your door is like Christmas morning! What is Stitch Fix? A great way to shop for clothing without ever leaving your house and shopping with the help of a stylist. Please note that I was not paid by Stitch Fix in any way to do this post/review. If you want to give a try yourself,
click here
for my referral link.
What you need to know about Stitch Fix:
-You fill out a detailed style profile of your likes, dislikes, sizes, how much money you prefer to spend, etc.
- You choose how often you'd like to receive a fix. Each time you can ask for specifics if you have something specific you want, or have an upcoming event to attend.
-A stylist chooses and sends you five items based on your wants, style profile, fashion pinterest boards, etc. Items can include clothing and accessories.
-You pay a $20 styling fee for the fix, BUT if you keep something from you Stitch Fix the $20 is credited towards your total. So the only time you "lose" $20 is if you send everything back. Bonus: If you keep all five items you get 25% off everything!
-You get three days to try on your items and decide, then you checkout online and send back what you don't want in the prepaid shipping bag you get with your box.
Now lets get on to what I got in my box this month! I have my fixes set up to arrive every other month...but once again I got impatient and bumped my shipment up. I just really want more fun summer items....at least that's the excuse I'm using!
Also, since my husband doesn't understand or like fashion at all. He doesn't get the boot trend and calls every cardigan a blanket...his favorite outfit on me is jeans and sweatshirt! So thought it would be fun and funny to add his feedback.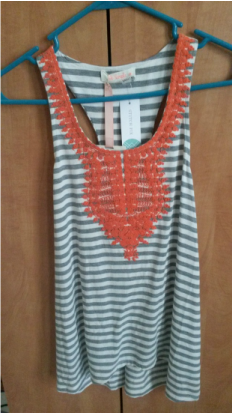 Le Sample-Kahlo Embroidered Racerback Tank: This tank went straight into my closet! I had pinned the maxi dress version of this shirt and since it was unavailable my stylist sent it in the tank version...and I love it! It's slimmer on the top and flows at the bottom, which I love! It looks like a fairly simple top, but the details make it great. It has lace embroidery on the front, racerback straps, and fabric gathering in the back.

Husband's feedback: "Yea I like it"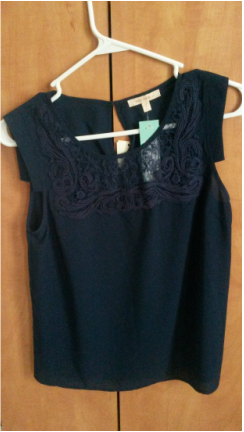 Skies are Blue-Frankie Lace Detail Blouse: I liked this top a lot, especially the lace detail, but the sleeve situation was just a little odd on my narrow shoulders. See those little flaps that are suppose to add a feminine touch? They would have looked great on the right person, but on me, it just looked like extra fabric over my armpits. Not very flattering.

Husband's feedback: "That looks weird. But you can do whatever you want." Since I also thought the arms were a little strange and since it's not really my goal to look nice but a little weird...back it went.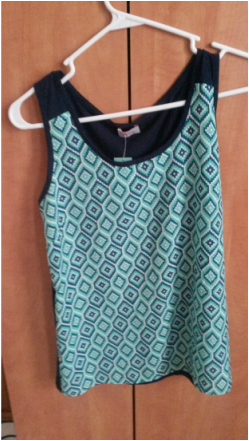 Pixley-Priya Diamond Printed Knit-Back Tank: While I liked the colors of this top and light weight quality of it, it was too boxy and the print was a little much for me. I have started getting more into printed items because of Stitch Fix, but this one is not one that I could on board with. Back it went.

Husband's feedback: "What is that shirt?" Me: "Too much print?" Husband: "It's too much something." Ohhh this made me giggle.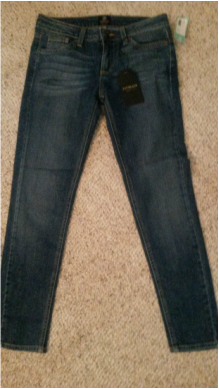 Just Black-Cami Crop Jean: The jeans I get from Stitch Fix I swear are like sisterhood to the traveling pants jeans. I always have a hard time finding jeans (which I think is a pretty common problem) so getting a pair in the mail seems like a disaster waiting to happen. It's actually a miracle! All my favorite jeans now come from Stitch Fix. They are always the perfect length, fit and oh so comfy! These crop jeans are the perfect for wearing under boots or folding into capris.

Husband's feedback: Never gave him a chance! Loved them so much I immediately threw them in the closet.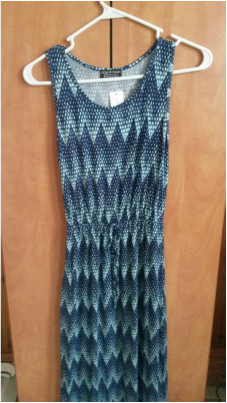 Papermoon-Waters Chevron Print Maxi Dress:
I love, love, love the maxi dress I got a few months ago from Stitch Fix and have requested more from now on. I was excited to see one in this fix....but that tiny little drawstring at the waist...not a fan. It hits me in a strange place and l just don't care for it. The print, while pretty loud, I actually started to like as I had it one. Just couldn't get over that darn drawstring. Back it went.
Husband's feedback: "That makes you look old." Me: "What?!" as I laugh. Husband: "Just looks like something an old person would wear."
If you want to give Stitch Fix a try
click here
. I have had the best luck by being very specific with what I want. Happy stitching and thanks for another week of orders!