Being a new (and small) business makes it tough to offer a whole lot of deals, but I have come up with a few in the past year that I hope people like. I can't offer huge discounts or freebies, but I do my best! This post will tell you a little more about the deals and promos Steph's Sweet Treats does have. If you don't regularly check the Steph's Sweet Treats Facebook page, you may not even know about them!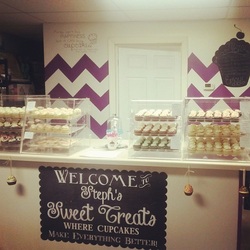 Open Day Giveaway
Even though I bake by order, every month I open to the public once a month for people to come in and buy 4, 6, and 12 packs of cupcakes (and sometimes cakes and cookies). If you've never been to an open day, I hope you can make it soon! Before each open day I make an event on Facebook to spread the word and promote the flavors I will have for the open day. I also do a giveaway every month. I post the giveaway on the
Steph's Sweet Treats
Facebook page and every person to "like" the post is entered to win a free pack of cupcakes. I've had people assume it's a 12 pack of cupcakes, so I'm sorry if you have won and been disappointed to come in and find that it is a four pack of cupcakes. But I do it every month and free cupcakes are free cupcakes right?!
Here's a link
to this months open day. I hope you can make it!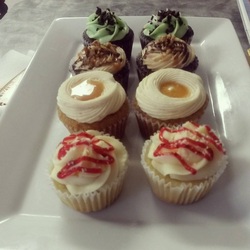 Wedding Referrals
I am oh so grateful to all the customers who have and who continue to spread the word about Steph's Sweet Treats. One of the best referrals to get is a wedding referral. This is why I created the wedding referral promotion. If you refer someone to Steph's Sweet Treats for a wedding, and they book, you get a gift certificate in the mail as a thank you from me! Know someone getting married?? Refer them, get a gift certificate, and enjoy a Steph's Sweet Treats cupcake at their wedding!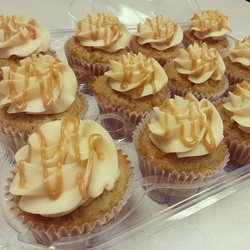 Customer Loyalty Card
Do you have a Steph's Sweet Treats customers loyalty card? There's no special steps to get one, they are right in the shop...all you need to do is take one and start getting stamps. For every full dozen you buy, you get a cute little cupcake stamp on the back of the card. Once you reach 10 stamps, you get $3 off the next dozen. You can't receive stamps for weddings, but for all other purchases you can. Make sure to get a dozen cupcakes and a stamp on your card next time you order or next time you swing by an open day.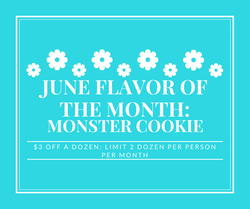 Flavor of the Month
The flavor of the month promotion is one of my newest promotions. I just started it in May, but had quite a few people take advantage of the promo, so I hope it will be a good one! Every month I will offer a specialty level cupcake at a deluxe level price. In other words....you get $3 off a dozen specialty level cupcake. Limit two dozen per person per month. This month's flavor is monster cookie cupcakes: brown sugar cupcake with peanut butter, oatmeal, chocolate chips, m&m's and toffee bits mixed in, topped with cookie frosting with toffee chips and mini chocolate chips mixed in and few m&m's to top it off.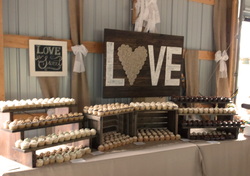 Stand Rental Deal
My newest deal is free wedding display rental when the bridal shower and wedding are both booked with Steph's Sweet Treats. If you are planning a bridal shower, or couple's shower of some sort for a couple who has booked their wedding with Steph's Sweet Treats, contact me and you will be able to give them the gift of free rentals for their wedding! Already booked me for your wedding and want free rentals? Tell your shower planners about this deal and make sure they let me know who the shower is for so I can write you down for free rentals!
If you weren't aware of these promos I hope you can now enjoy them! Thank you for another week of orders! Wedding season is about to be in full swing so order ahead. Weekend availability is becoming limited.