Last month I bumped up my Stitch Fix box so that I could get more summer items. So even though I did a Stitch Fix review last month...I actually got two boxes! So this review is for the second box I got in June and for the July box I just got. If you want to try Stitch Fix click
here
to get started.
What you need to know about Stitch Fix:
-You fill out a detailed style profile of your likes, dislikes, sizes, how much money you prefer to spend, etc.
- You choose how often you'd like to receive a fix. Each time you can ask for specifics if you have something specific you want, or have an upcoming event to attend.
-A stylist chooses and sends you five items based on your wants, style profile, fashion pinterest boards, etc. Items can include clothing and accessories.
-You pay a $20 styling fee for the fix, BUT if you keep something from you Stitch Fix the $20 is credited towards your total. So the only time you "lose" $20 is if you send everything back. Bonus: If you keep all five items you get 25% off everything!
-You get three days to try on your items and decide, then you checkout online and send back what you don't want in the prepaid shipping bag you get with your box.
I was super excited when I opened my second June box. I loved everything in it, but not everything fit right..which was sad for me, but good for my wallet! Here's what I got: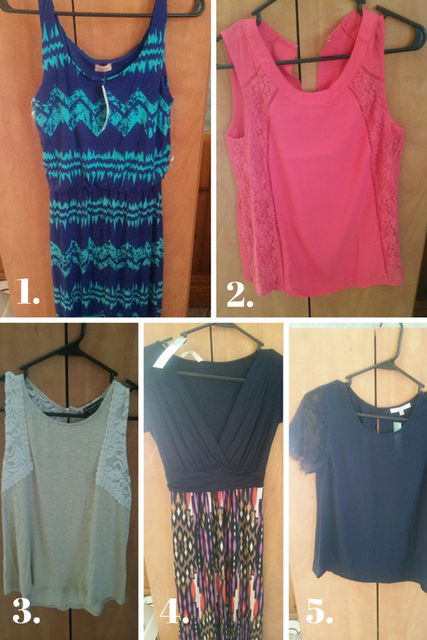 1. Pixley-Livie Abstract Chevron Maxi Dress: I specifically asked for more than one maxi dress (and my stylist listened!). I even had this one pinned on my pinterest page..extra points for my stylist! I really loved the colors of this dress, but it was just big enough on me to not look right. The scrunchy part in the middle hit me a little too low and my husband's comment was "why do you wear things that are so big on you?" So I take it the intentional baggy look looked more like drowning on me...so sadly I returned it.

2. Skies are Blue-Cress Lace Inset Top: Oh man oh man I loved this top. I asked for items with lace on them and again my stylist listened. I had three pieces to choose from! This shirt is meant to give a little more shape with the lace inset portions on the side. But it didn't give shape to me. It ended up being boxy on me and too long. So back to what my husband said...just looked too big on me. I sent back this top but LOVED the idea of it.

3. Papermoon- Clarkson Lace Detail Knit Top: Another lace detail top, which I loved. I was so so close to keeping this top, especially since I need more tank tops. So close that I'm having a bit of returners remorse. It was loose enough for me, but not too loose or boxy. The only reason I didn't keep it was because of the color. I like the color, but my skin tone says differently. By time I get even close to getting a tan, summer will be over.

4. Gilli- Sina V-Neck Printed Maxi Dress: This is the second maxi dress of my box and it's from one of my favorite brands Stitch Fix offers. I got a similar maxi a few fixes ago, but this one has sleeves and different colors, so it was a keeper! So soft, so comfy, stretchy, and just great!

5. 41Hawthorn- McQue Solid Lace Sleeve Blouse: I really liked the lace sleeves on this top and I liked the simplicity, but it was just a little to simple. I asked by husband's opinion and he just shrugged his shoulders and said "meh." Back it went.

From the outside it may look like this fix was a bust since I only kept one item, but I thought it was a great fix. Why?? Because my stylists listens to what I want and sends me things I pin!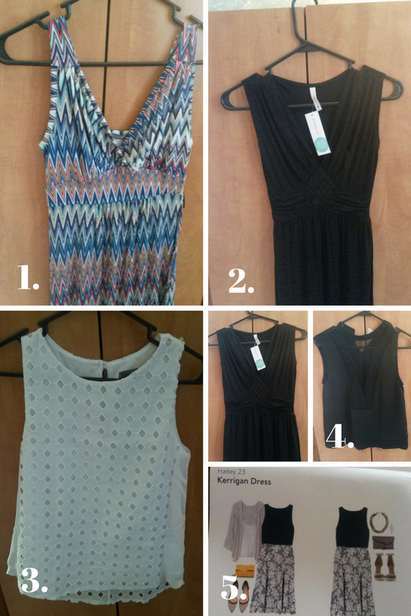 I just got the above box today and surprisingly loved it! I say surprisingly because I wanted bright summer colors, which these are clearly not. They are however things I asked for...maxis, wedding attire, lace, and tank tops.
1
. Loveappella-Carlita Multi Chevron Print Maxi Dress- I have been itching for this dress in purple, but when it came in blue I was still really excited to get it...because I have a maxi dress addiction! Unfortunately, the print just didn't look good on me. You'd think after getting 3 different chevron dresses I would learn maybe it's just not a good look for me?! I will not be keeping the dress.
2. Gilli- Jessie Maxi Dress- I wasn't expecting to like this dress because it's just a black maxi...or so I thought. It has detail right by the bust (tried to throw in a close up of it but it's still hard to see), it's subtle but adds a lot to it. I don't own a lot of black so having a black maxi in my closet feels like a staple I should have. That's how I'm justifying anyways!
3. 4Sienna- Kensington Eyelet Detail Top- I've been trying to dress more like an adult..getting rid of clothes I've had since high school...so my closet is getting kind of
sparse. I need some tank tops and love the details of this top. I can dress it up and down! Keep!
4. Fun2Fun- Mirabel Lace Insert Blouse- I finally found a lace tank top that fits right! I'm a little sad that it's not colorful. But like I said earlier, I don't have much of anything that's black, so I suppose it's about time! And, like other tank in this box, it can be dressed up or down. Keep!
5. Hailey 23- Kerrigan Dress- I was so excited about this dress I forgot to take a picture of it! Oh well, now you can see what a style card looks like. The stylists give you style cards of the item with suggestions of how to wear it. I have a few weddings to go to this summer and this dress is the perfect mix of casual and dressy. Keep!
If you want to try Stitch Fix click here. And I hope to see you all at my open day Friday! Thanks for another week of orders!