I've noticed that the blog post readers seem to enjoy the posts that have to do with my personal life or fun bakery information. So.... in the spirit of what's been popular. Here's a combination of both!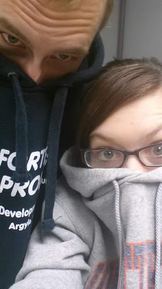 I've talked about the grease trap before, so I won't go into a whole bunch of details. But in case you haven't read/don't know. Bakeries and restaurants have to have a grease trap to intercept grease and fats from entering the city water supply. Lucky me...and my husband...get to clean it EVERY month! It's definitely not as smelly as a restaurant or bars is (thank goodness!), but it's still not very pleasant. So here's my husband and I preparing to
clean
the trap.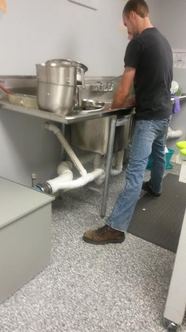 Sometimes I get oh so lucky to have my husband swing by and do my dishes. This mostly happens on open days since baking, helping customers, and doing
dishes
all at once can be a challenge. I couldn't resist taking this picture when I peeked in the kitchen one day! He's tall...so hunching over the sinks hurts his back...so he stands like this. I on the other hand, am so short that I'm practically in the sink trying to do the dishes.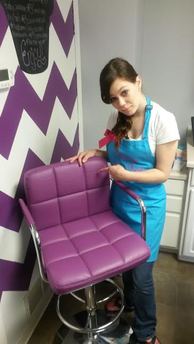 Ok. It's a little hard to see in this picture...but I promise they are there. My husband stole my
stool
and sat (well slouched) in it during my last open day. When he got up, I noticed wrinkles on the top from him slouching in it! My pretty little stool now has wrinkles. They have since faded a little bit...but I can still see them because I know they are there!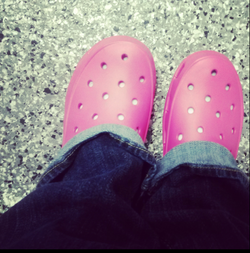 I stand for a very long time when I bake. I tried sneakers, but found my memory foam Nike flip-flops to work better. But wearing them in the winter wasn't so great. When they got a little worn I went in search of something that would help my foot, ankle and back pain from standing. I do stand on mats, but after 12+ hours...nothing seems to help. After searching and searching, the same thing kept coming up....
crocs
. So I bought a new pair of the same Nike flip flops AND a pair of crocs. And I must say....they are super comfy!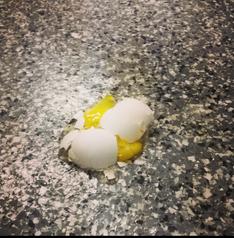 Sad, sad, day when you lose an egg. That's about it for this picture hehe...dropped an egg on accident...
In addition to these behind the scenes pictures, I wanted to talk a little about my very first parade as Steph's Sweet Treats. I participated in the Farmers Appreciation Day parade this past Sunday with my husband, parents, niece, and mother-in-law. We handed out pens and can koozies....and I am so glad I didn't hand out anything edible. It was hard enough keeping up and making people happy with pens and koozies! I can't imagine what it would have been like if I would have handed out samples. Even though we had a lot to hand out, we still ran out by the end.

I must say I was a little disappointed in some of the parade viewers. Don't get me wrong, seeing a bunch of customers, meeting new ones, and hearing positive feedback was great; and the good did outweigh the bad. However,in addition to noticing some viewers get upset about not getting something edible, my dad overheard some people (adults mind you) that called my mom rude for not giving them koozies. Apparently, they had been standing in a row behind a few other people waving their hands and reaching for a koozie and didn't receive one. This really upset me. First off, these are items I purchased to give away to people...they were not free to me, they were free to parade goers...so I feel complaining is not nice. Secondly, my mom did not see them. Thirdly, even if she would have seen them, we could not possibly hand something to every single person. If you've been in a parade, or even just watched parades, you know what it is like. You hand something to one person, and ten others run over or start reaching for one as well. So I'm sorry if you did not receive a pen or koozie. You were not purposely excluded. We did our best to spread out the items, but it is so difficult, especially when so many people are trying to get something at once. Thanks so so much for all the kind and supportive customers who came and enjoyed the parade and gratefully accepted free items or did not care that they didn't get anything.

Thanks for another week of orders and I hope to see you all at next week's open day!