This week's post is a mix of my life AND the bakery. If you follow the blog, you know I took a mini
vacation
to Door County back in April. When I get away it's usually during the week (since most orders are for the end of the week/weekend). Which is fine and dandy....except that means my husband has to miss work....which he absolutely hates! So...going away on the weekend has become very challenging.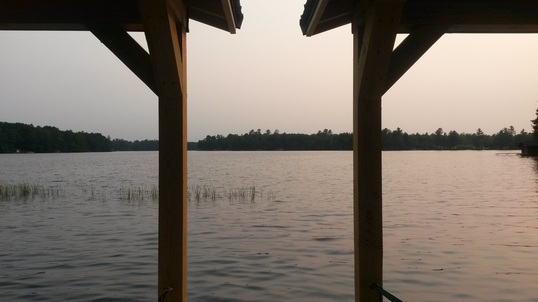 Last year, for 4th of July weekend I was baking for a wedding. This year, I didn't have a wedding and didn't have a lot of order inquiries for the weekend so I tentatively decided to not take orders. My parents have a house in the
Northwoods
that I have yet to visit. I went to their old house many times, but have not had the opportunity or time to get to this one. And getting away on a weekend with the bakery is few and far between...so I decided to take the holiday weekend to do so! Of course, the week leading up to the holiday I got inquiries for orders. Everyone was surprisingly understanding about not being able to order, or gladly chose to take their orders early. I hate hate hate saying no, but I know that it is sometimes necessary.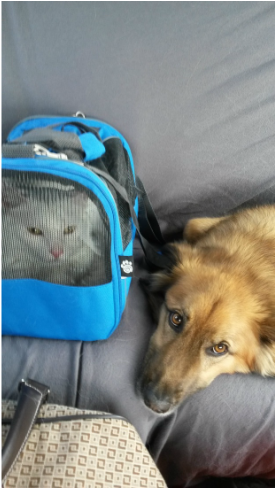 I swear they weren't really as upset as this picture looks. This was on the way home so Hanley (dog) was worn out and Smudge (cat) was probably mad because he hates coming home. He'd rather stay on vacation :)



The Northwoods is probably my favorite place to go. No matter how much you love what you do, getting away can be one of the best feelings. I could be doing nothing but drinking coffee and
reading a book
..but if I'm in the Northwoods it feels amazing. When we go up north my cat and dog travel with us...oddly enough my cat is great traveler. He loves water too..he's a strange one!
So I took the weekend off to enjoy the Northwoods with my husband, parents, and pets. We went on several boat rides around the chain of lakes, relaxed, and played pool a lot...which I am not so great at but it's fun to try! I also fished a tiny bit, but didn't catch anything which I was slightly relieved by. I use to fish a lot when I was a child, but now I have this weird thing where I feel bad for putting a hole in a fishes lip and then throwing it back in the water. I also feel bad about stabbing a worm...especially since they don't have eyes and can't see it coming...so I used an artificial lure. Strange...I know! I should probably just be a vegetarian....
June Wedding Recap
I post pictures of all the Steph's Sweet Treats weddings on my facebook page, but since not everyone sees them, I thought it would be fun to post the pictures and information of them on here once in a while!
June 6th wedding: Dodger Bowl in Dodgeville. 350 cupcakes: vanilla, chocolate, vanilla raspberry, vanilla strawberry, red velvet, chocolate peanut butter, and funfetti. This wedding also had cupcakes on the centerpieces of the reserved tables. This rustic yet whimsical display was provided by the couple.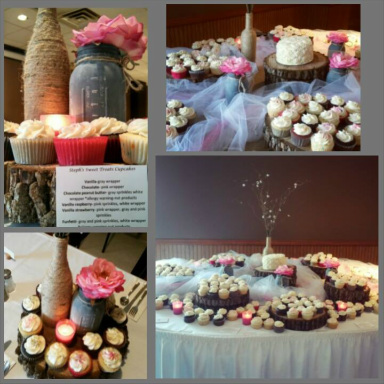 June 13th: 300 cupcakes set up at the Belmont Convention Center: vanilla, chocolate, and chocolate chip cookie dough. Love, love, love these rustic cupcake stands! They were provided by the couple, but I would LOVE to have them for myself for others to rent.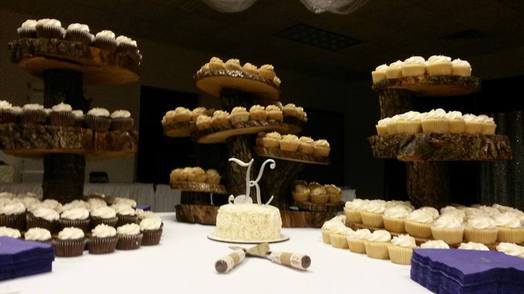 June 20th: This was a double wedding delivery day. The first went to the White House in RIchland Center: 200 cupcakes: vanilla raspberry, chocolate, ultimate marble and chocolate chip cookie dough. The displays were again provided by the couple.

Second wedding of the night: Wisconsin Riverside 310 cupcakes: chocolate chip cheesecake, smore, lemon raspberry, and strawberry cheesecake. This couple rented their table display from Enhancements Flowers & Decor in Dodgeville. I don't know if everything was rented from them, you'd have to check with the company, but I know a lot of it was. Loved that this table had it's own little section of the reception hall. It was in a little nook with a light and everything.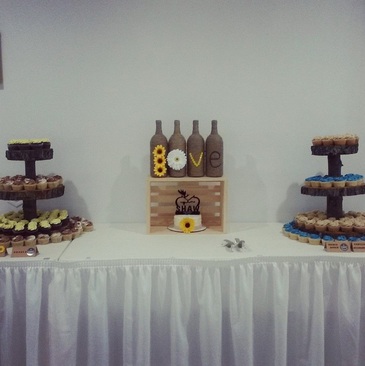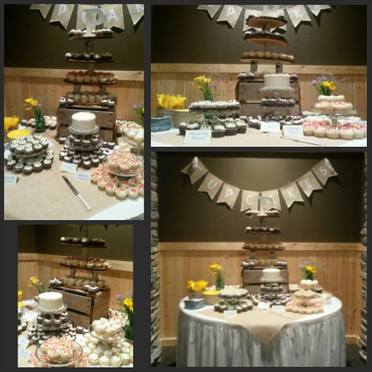 Thank you for another week of orders! See you at the Farmers Appreciation parade!!