I love seeing people's reactions when they come into Steph's Sweet Treats for the first time. From the outside, my little brick building may not seem like much, but I've put a lot of time and love into making it mine. A lot of which is reflected in the decor I have around the bakery. I wanted to take a moment to give shout outs to a few of my favorite pieces since they were made by hand from some special people and/or small businesses.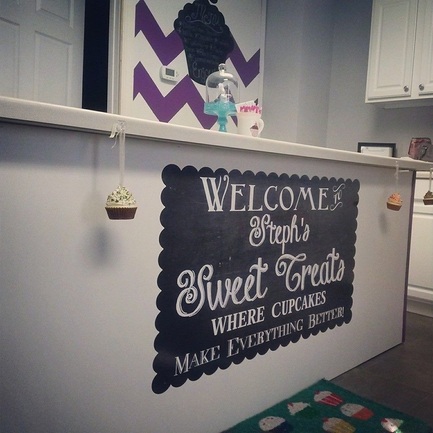 Let's start with one my newest additions to my shop. My "Welcome" graphic! This graphic was designed and made by
Wilson Graphics
. I was beyond happy with the way my decal turned out. I sent them the dimensions, wording, and what I wanted for a look....rustic, fun, and chalkboard...and they came up with this beauty! Now, I can't look at this picture without noticing the (also fairly new) front counter.
This front counter is soooo much bigger than my old counter. It holds four cases instead of two, has shelving on the backside for more storage, and most importantly...it was made by my Uncle Flipper. His real name is Phillip, but to me he is Uncle Flip (or Flipper).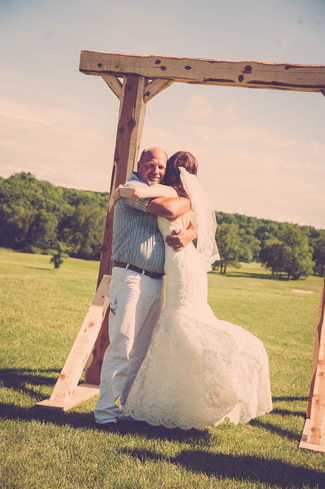 Photo by Kelsey Jean Photography
My Uncle Flip means the world to me. I will always cherish this wedding picture of us because he is picking me up. This is something he ALWAYS does when he hugs me...so I asked my photographer,
Kelsey Jean Photography
, to capture it for me. I don't know exactly why this gesture means so much to me, but it does. He is always there to help me and has done so much for me personally and when it comes to Steph's Sweet Treats. See that beautiful arch we are standing under?? He made that! He also made a stand for my wedding display, which I now use for all my wedding tastings.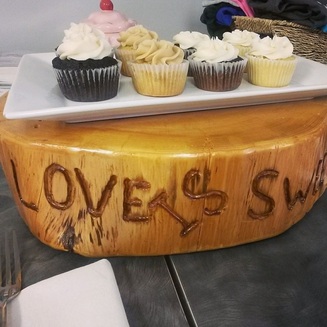 He also installed all the cabinets in the bakery. He works long construction hours, but still took the time, and made the trip to Dodgeville, to help me out. So my Uncle Flip is a part of Steph's Sweet Treats. He has put a lot of time and energy into it and that is priceless and beyond meaningful to me. Quick shout-out to Brett, family friend who I've known since I was born. He also helped install cabinets and tear down walls. Thank you, thank you!!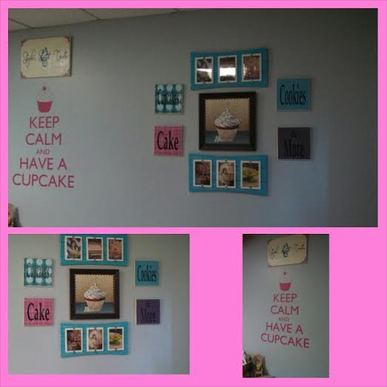 Next up, my signs from
Un-BLOCKn-Believable Creations
. Before opening Steph's Sweet Treats I had ordered last name blocks for my parents and grandparents from Un-BLOCKn-Believable. So when I opened, I asked for some custom hanging signs. And boy oh boy did she deliver! The "Steph's Sweet Treats" above the Keep Calm and Have a Cupcake, and the four signs to the right "cupcakes, cake, cookies, and more" were all made by her. She's too does it all on her own and is out of Galena Illinois. Check her out!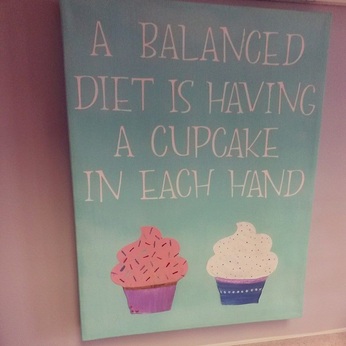 And last, but certainly not least, it is the newest decoration to be added to Steph's Sweet Treats....this adorable canvas sign! This sign was handmade by my friend Morgan. I cannot get over how cute and perfect it is for Steph's Sweet Treats. She sent me this saying in a text one night and after seeing how much I loved it, she sneakily made it into this for me! She surprised me with it at last Friday's open day and I immediately found a spot for it. She makes beautiful signs (I have another amazing one in my house that she made for a wedding present-pictured below.) So thank you Morgan for being so talented and thoughtful! If anyone needs an awesome custom sign, let me know and I can put you in contact with her.

Don't worry Aunt Pat I didn't forget about you! Many of the little knick-knacks around Steph's Sweet Treats were given to me by my Aunt Pat. The cupcakes that hang on my front counter and get so much attention from children...Aunt Pat; the teddy bear holding a cupcake (on the chair my mom got me-thanks mom!)...Aunt Pat; the kitchen aid timer on the table...Aunt Pat. Thanks for finding and giving me some great goodies!

Now when you come into Steph's Sweet Treats you will know the story behind some of the decor. The pieces that come from friends and family mean the most to me and are irreplaceable. I hope you now see why I take so much joy in seeing others reactions to seeing the inside of Steph's Sweet Treats for the first time. It's not just me who has made it look the way it does. It's other small businesses, friends, and family.

Thanks for another week of orders and for helping me sell out on Friday's open day!