I've officially named September wedding month....and August is birthday month! Why is August birthday month?? It's not necessarily the month that has the most birthdays overall, it's just the month that has the most birthdays for me personally. In consecutive weekends I have birthdays for my nephew Liam, my godson Sully, and my niece Chloe. I have a new little niece (Charlee Jean) who isn't technically an August birthday, but I'm counting her in the birthday madness because her birthday party will fall the weekend before Liam's most years.

So August feels like Christmas in our house. I had a box of presents in the spare room waiting for each party; just like Christmas, minus the tree, and plus cake. Which is what I want to focus on for this blog post...the cake/cupcakes!

I've had the pleasure of being the dessert provider for all these birthdays for several years or their whole lives. I love doing it because I pretty much get to do what I want for them. Which is great because I can try something I've been wanting to do, or do something a little more over the top that may not normally get ordered.

A few years ago I did two tiered cakes for Chloe and Liam. At the time I was still just baking for friends and family at home and didn't have experience in tiered cakes...so I used their birthdays as a chance to get some experience and do something fun for them.

Now onto what I made for this year's birthday mania...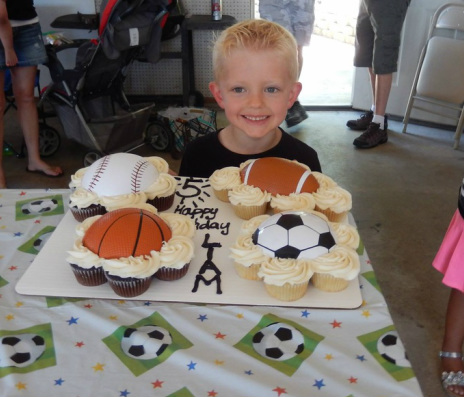 Liam's birthday comes first in the August birthday mania. He's a very active little boy, so for his 5th birthday he wanted a sports themed cake and sports he got! I've found that most kids prefer to eat cupcakes over cake (shhh they don't know they are the same thing). So for Liam's sport theme I added "pop tops" to vanilla and chocolate cupcake cake sections. Upon seeing it he immediately wanted to know if he got to keep them. He did!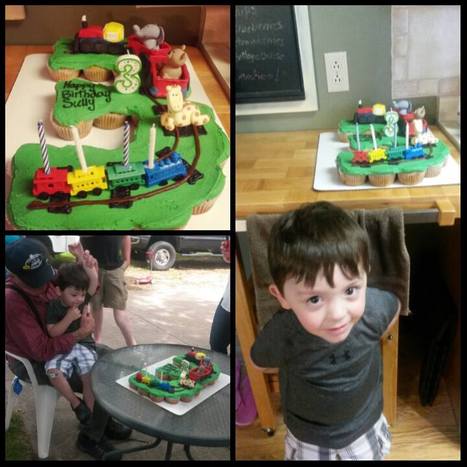 Up next was my sweet godson Sully (Sullivan). This little man lives all the way in LaCrosse so I don't get to see him much. So every time I see him it's like he's grown up soooo much. I can't believe he is 3 already!! Sully was originally going to have a Thomas the Train theme, but after riding the train at the zoo, the two now go hand in hand. So animal train it was! I made the shaped 3 out of monster cookie and chocolate chip cookie dough cupcakes, and the top train and all the animals out of fondant. I was told that when he was asked "what do you want for your birthday?" he would respond "cake!." Was he destined to be my Godson or what?!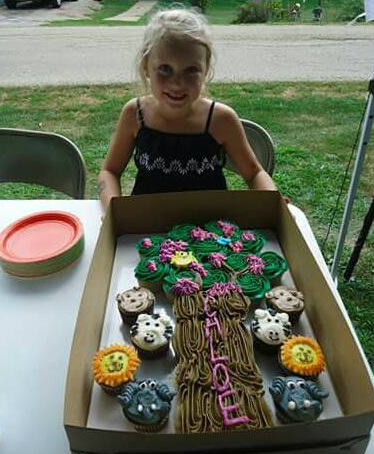 The final birthday in August mania, the original August birthday, is my niece Miss Chloe. Chloe turned 6 (going on 16) this year and loves animals just like me! I incorporated zoo animals with a "girly" tree in the middle. I had to add the owl because her grandma (my mother-in-law) loves owls. Chloe knows this and had to make sure grandma saw it. This was a fun one to make and I'm so glad she is a fellow critter lover.
Next year this little lady, Charlee Jean, will be kicking off the birthday mania at the end of July. Can't wait to see what all her birthday themes will be!

Thanks for another week of orders! Hope to see you at the open day Friday...it's the last one until October!