I still haven't gone back to getting my Stitch Fix every other month. I started with it at every other month, but I can't help myself from getting it every month now. I feel like I'll miss out on too many good seasonal items if I don't! If you have never heard of Stitch Fix and am wondering what the heck I am talking about, the details are listed below. Please note: I was not compensated in any way for this post, just posting my review because it's part of my life. If you want to give it a try click
here
.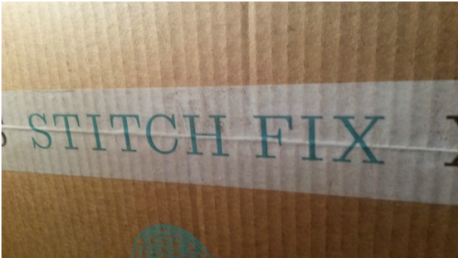 What you need to know about Stitch Fix:
-You fill out a detailed style profile of your likes, dislikes, sizes, how much money you prefer to spend, etc.
- You choose how often you'd like to receive a fix. Each time you can ask for specifics if you have something specific you want, or have an upcoming event to attend.
-A stylist chooses and sends you five items based on your wants, style profile, fashion pinterest boards, etc. Items can include clothing and accessories.
-You pay a $20 styling fee for the fix, BUT if you keep something from you Stitch Fix the $20 is credited towards your total. So the only time you "lose" $20 is if you send everything back. Bonus: If you keep all five items you get 25% off everything!
-You get three days to try on your items and decide, then you checkout online and send back what you don't want in the prepaid shipping bag you get with your box.

This month I asked for bright summery tops. I know summer is almost over but I can still wear them under a jean jacket or cardigan...and there's always next summer! I also asked for another dress to wear to a wedding. Along with baking for nine weddings in September, I am attending two of them as a guest. So here's what I got!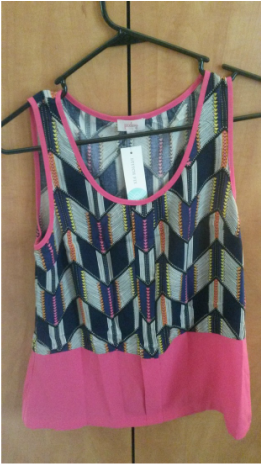 Pixley-Palacio Abstract Print Colorblock Tank: My stylist is great at paying attention to what I want and pulling items from my Pinterest board. This tank came from my board and I like the mix between pattern and print. It will be fun to wear on it's own or under a jean jacket. It's a keeper.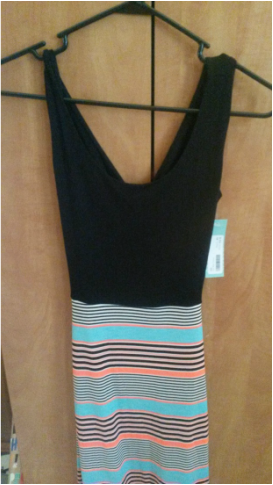 Gilli-Juri Maxi Dress: I think I almost started jumping up and down when I saw this dress. I have a Stitch Fix maxi dress addiction and I love the Gilli brand (pretty sure all the maxi's I have kept from here have been Gilli) AND I have been wanting this dress in the worst way!! This isn't the exact color I have been asking for, but I think I like this one even more! I love the bright colors in contrast with the black top. My favorite part of the dress (not pictured) is the cutout in the low back. So as you can probably guess...in my closet it goes.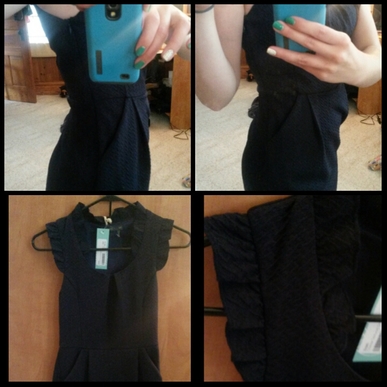 THML-Chassie Textured Dress: I'm still not brave enough to post pictures on here of me actually in the items I receive, but I wanted to show why I am undecided on this one, so I settled for cutting off my head in the photos. :) It also doesn't look like much on a hanger so I thought I better include the other pictures. I love the details of this dress (they are tough to see in these photos). It has a ruffled/petal like detail at the shoulders, pockets, and gathered points in front. My issue...I kept a dress for weddings last month that was navy blue on top and navy blue under the lace detail bottom. This dress is also navy blue. My other issue: as you can see in the top right photo it looks a little strange from the side if I'm twisting or moving due to the gathered material. I don't want to stand perfectly still while wearing it...so I'm still undecided on what to do about this one.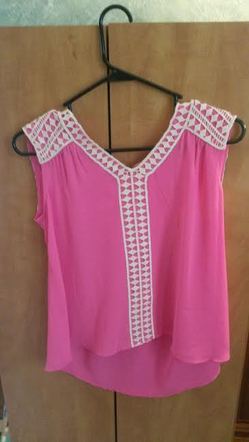 Collective Concepts-Leeds Crochet Detail Top: I love the color and detailing of this top, but I think it might be a little too boxy again. As you can see it is higher in the front than it is the back. I think that accentuates the fact that from the side it looks pretty big. But from the front I love it...so I'm so torn!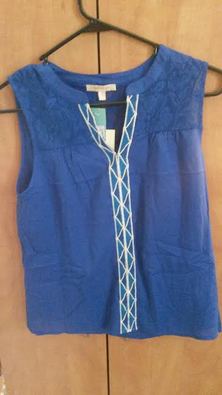 Skies are Blue-Arlene Embroidered Top:
I was immediately drawn to this color. It's not something I have in my closet so I would love to add it. At first I wasn't too sure on the top. I looks pretty simple but has subtle details, which I always like. After posting this top on a Stitch Fix Facebook page and seeing how many people "liked" the top, I'm thinking I should keep it. As you can see, it wrinkles easily..I'm not one for ironing. I either wear the wrinkles (I know...tacky) or I've been known to use my hair straightener on a wrinkle if I can get to it (I know...bad).
Overall, my fix was a complete success in my eyes...once again. I got items I asked for and I thought they were completely my style...which I'm learning is more of a boho style according to my stylist! Ready to try Stitch Fix yet?? Click
here
if you want to give it a go.
Thanks for another week of orders! I hope to see you at next Friday's open day!!