Even though I deemed August to be birthday mania month, I still had quite a few weddings. Sooooo in case you didn't see them on my Facebok page...here they are!

August 15- 300 cupcakes at the Sportz Page in Belmont: smore, cinnamon roll, chocolate chip cookie dough, vanilla raspberry, vanilla, and chocolate twinkie. I loved combining my tiered stand with the stair stands the couple provided. Cupcakes were also put on the head table with their beautiful painted bottles.

The second wedding I did for August 15th was picked up and set up by a friend of the couple. It was 124 cupcakes (carrot, chocolate chip cheesecake, and gluten free carrot) at the Aldo Leopold Nature Center. Love the rustic wood stand they used!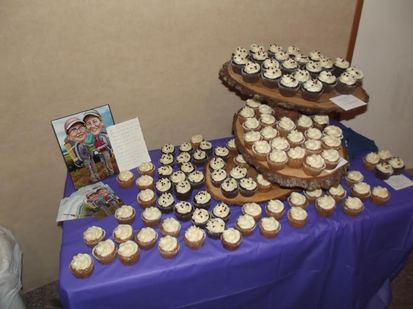 The first wedding for August 22nd was at Century Barn in Mt. Horeb. I was beyond excited to set up there (I have always wanted to). To top it off...I got to set up on old whiskey barrels...another thing I have always wanted to do!! So far this set up is probably one of my favorites (if not my very favorite). I used a combination of my gold stands, stairs, and crates to set up: monster cookie, chocolate chip cookie dough, funfetti, triple salted caramel, lemon raspberry, and chocolate peanut butter craving cupcakes.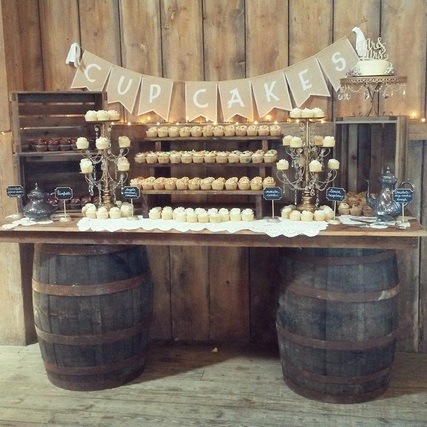 I did another wedding on August 22nd.... but sadly I don't have pictures yet! (Tears) I made 264 cupcakes: chocolate peanut butter, dark irish, lemon raspberry, vanilla strawberry, smore, and dairy free chocolate. Hopefully I will have pictures of this wedding to post soon!

The last wedding of the month was 250 cupcakes at Deer Valley Lodge in Barneveld: red velvet, vanilla, vanilla raspberry, chocolate, and chocolate mint. I have done a setup with these stairs and crates before, and I was so happy that even though I have done this set up, it still looked very different because of the location and table decorations. I felt like a sneaky undercover person or something setting up this wedding. The couple was getting married right outside the reception hall so we had to get in and out quickly. So right before the ceremony we got into the hall, started setting up as they got married, and were snapping pictures as we heard the clapping. That was our signal to skedaddle! We drove away as the receiving line was going....success!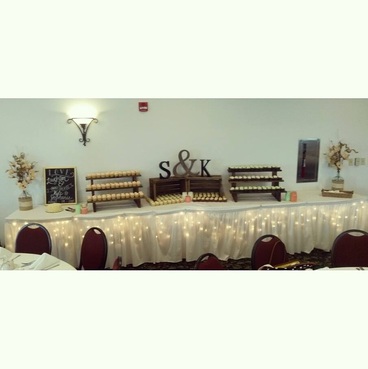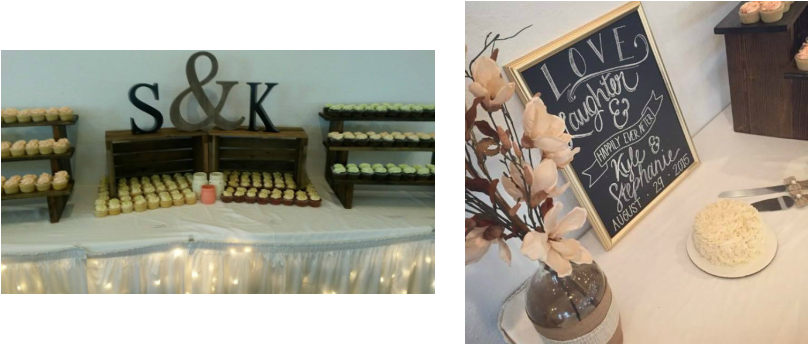 Thanks for another week of orders! My crazy September has officially started :)