I mentioned before that I never realized how popular September was for weddings until opening Steph's Sweet Treats. Now I am going to rephrase that and say... I never realized how popular September is in general! On top of weddings, September was crazy busy with baby showers, bridal showers and birthdays. It's just a busy month! So here's a look at the nine Steph's Sweet Treats September weddings! If you were at any of these weddings and have photos, I would love to see them. I love seeing all photos involving Steph's Sweet Treats goodies, so anytime you have photos please feel free to send them my way!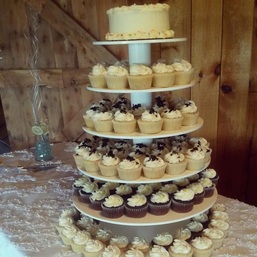 The first wedding of September was a small intimate wedding with 150 cupcakes at Barn 23 in Dodgeville on September 5. They got cookies n cream, chocolate, and vanilla raspberry cupcakes. They used my traditional tiered cupcake stand displayed on an elegant lace covered table.
The weekend of September 12 was my first triple wedding weekend. The wedding above (photos courtesy of
Kelsey Jean Photography
) was for a co-worker of mine- co-worker at my parents' company. It was 336 cupcakes at Bridges in Darlington- chocolate chip cookie dough, smore, vanilla raspberry, and pumpkin. So, in addition to baking for this wedding, I attended it!
Did I mention how awkward I feel being at a wedding where people are eating my cupcakes?! I have always felt awkward about it, but haven't been to a wedding where people were eating my cupcakes since my own wedding last year. When dinner started I got more and more nervous, and then the bride and groom announced everyone could take cupcakes....panic time! I don't like to watch people eat my cupcakes because I get nervous to see their reactions. This makes attending a wedding with my cupcakes very complicated! Everyone around me was eating cupcakes, nobody knew I was the one who made them so I could see and hear them but they didn't know who I was....so I sat awkwardly looking from the ceiling to the floor, doing my best to avoid cupcake eaters. Thankfully, from what I could hear and see, the guests were pleased... but man oh man was it stressful!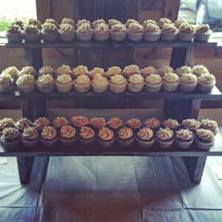 The second wedding for September 12th was another small intimate wedding at Barn 23 in Dodgeville. This wedding was 70 cupcakes- apple cider, pumpkin, and marble. They used my rustic stairs to display their cupcakes, which were set up by Barn 23 for the couple.

The 3rd wedding for September 12th was 250 cupcakes at Arthur's in Spring Green- Mint chocolate chip, lemon raspberry, chocolate chip cookie dough, and strawberry cheesecake. This couple used one of my stair stands, antique white stands, and supplied their own platters. The cupcakes were picked up and set up by the couple. I loved how they put together their display...especially the part where they put my cards throughout the table! :)

September 19th was also a triple wedding weekend and a weekend where I got to attend one of the weddings! This time I attended my brother-in-laws sister's wedding. The wedding was 350 cupcakes: vanilla, chocolate, pumpkin, and apple cider at the family's farm. To say this wedding was beautiful is an understatement. They had a huge party tent outside, hay, barrels, rustic chairs, fancy trailer bathrooms, outdoor fire/heaters, etc. I set the cupcakes up on my ladder set up to fit their rustic theme. I was also given the freedom to do what I wanted with decor, so I did half of the cupcakes swirled with various fall colors and the other half topped with sugar leaf toppers. I loved the end result!

Soooo....two week's in a row I had to be in a place with people eating my cupcakes! Thankfully, I had a baby to distract me this time. I was feeding and bouncing around with my baby niece so I didn't focus on the people eating my cupcakes.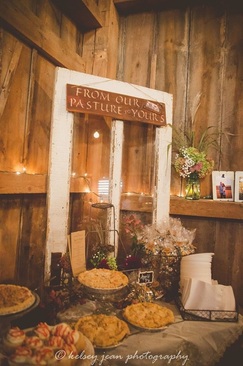 The second wedding for September 19th was at Century Barn in Mt. Horeb- 225 cupcakes (raspberry white chocolate cheesecake, butterscotch, and thin mint copycat) and 6 pies....yes pies! How fun, right?! The pies were strawberry rhubarb and apple. This wedding was picked up and set up by the couple. Look how gorgeous their dessert table is! Thanks again Kelsey Jean Photography for the photo!

Sadly, I don't have a photo of the third wedding to share yet. Hopefully I will have one soon!


The last weekend of September was two weddings. First up was this 250 cupcake wedding at Dodger Bowl in Dodgeville- raspberry white chocolate cheesecake, apple pie, mint chocolate chip, and chocolate chip cookie dough. The setup was provided by the couple, and I must say...I loved it! The table had different platters, stands, pictures, and decor, making it oh so pretty!

The second wedding was 450 cupcakes at the Belmont Convention Center- angel food, raspberry white chocolate cheesecake, turtle, pumpkin, chocolate peanut butter, and ultimate marble. The backdrop to this table was beautiful! And you should have seen the backdrop to their head table. Swoon worthy! This setup used my crates and gold stands, the cake box was provided by the bride and groom. My crates and gold stands have become very popular with wedding setups this year and I love that every time I use them, I can make them look a little different.

Thanks for another week of orders and don't forget to stop by the October 9th open day....I will have a lot of sweet treats!!