It's not technically fall yet, but the recent cool down (by recent I mean one day) has me ready for fall. I have decided my favorite season is fall....for so many reasons! Cool weather...which means sweaters, sweatshirts, jeans, and boots, going to the apple orchard, fall decorations, and pumpkin.....pumpkin flavored everything! What else is great about fall?? All the wonderful fall flavored cupcakes Steph's Sweet Treats has to offer!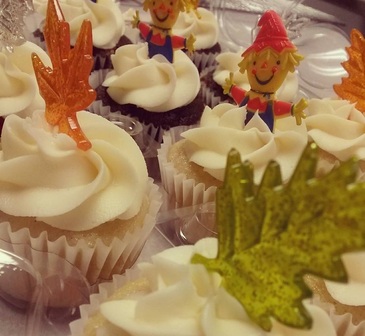 If you love the flavors of fall, you should check out these Steph's Sweet Treats fall flavors! If you've tried some already, make sure to let me know what your favorite was.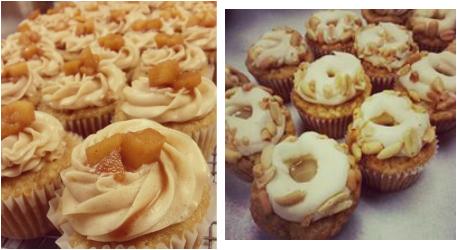 Calling all apple lovers!

Apple pie cupcakes (left): Apple cupcake, filled with apple filling, topped with cinnamon cream cheese frosting and topped with more apple filling. Time to turn pie eaters into cupcake eaters....ok you can eat both.

Caramel apple cupcakes (right): Apple cupcake with apple filling, topped with buttercream ring, caramel, and rimmed with salted peanuts. All the goodness of a caramel apple, without the mess!

Not pictured- Apple cider and caramel apple cider cupcakes. The apple cider cupcake are an apple cider cupcake with cinnamon brown sugar frosting and the caramel apple cider cupcakes are an apple cider cupcake with caramel frosting.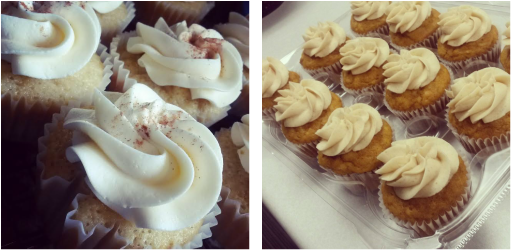 Pumpkin lovers gather here...these fall flavors are for you!

Pumpkin pie cupcake (left) is the newest fall flavored cupcake to Steph's Sweet Treats. It is a vanilla cupcake with a graham cracker crust, pumpkin filling, whipped frosting and a dusting of pumpkin pie spice.

Pumpkin (right): done my way... Which means how I want to eat a pumpkin cupcake. This is the pumpkin cupcake I created when a former cheerleading friend of mine got married and I had the pleasure of making her cupcakes. She asked for pumpkin...so I made these pumpkin cupcakes with a graham cracker crust and cinnamon brown sugar frosting. You can also get pumpkin cupcakes with cream cheese frosting and no crust.

Not pictured: pumpkin spice latte. Pumpkin spice latte (PSL) is all the rage in the fall. So why not have it in cupcake form? My pumpkin spice latte cupcake is a pumpkin cupcake infused with espresso, topped with a whipped frosting and caramel drizzle.












Pumpkin and apple aren't the only fall flavors available! Here are a few more flavors that will make any fall lover happy!

Chai latte (left)- chai tea spice infused vanilla cupcake (cinnamon, cardamon, ginger, etc) with chai latte whipped frosting and dusting of chai spice mix.
Cranberry bliss- brown sugar cupcake with orange zest, white chocolate chips, and dried cranberries, topped with orange zest buttercream, white chocolate chips, and dried cranberries.
Triple salted caramel- Caramel isn't an outright fall flavor, but I love it and I love fall.... so I'm including it! This is a brown sugar cupcake with salted caramel buttercream and salted caramel drizzle.

Not pictured: Sweet Potato Pie- Sweet potato cupcake with a graham cracker crust, topped with marshmallow buttercream and pecans.

Get your fall cupcakes today! And as always, thanks for another week of orders!