I know the sign and logo to Steph's Sweet Treats explains that I am more than cupcakes ("cupcakes, cake, cookies, and more!"), but people are still shocked to hear that I do more than cupcakes (and cake)! Cupcakes are definitely my specialty, considering I have well over 100 flavors at this point, but I bake just about everything. I have people ordering more than cupcakes a lot lately...which is exciting. So I thought I'd give everyone the scoop on some other treats I make. I'm also considering adding a few of these items to open days, so here's a look at what you might see!

I'm starting with
cookies
because my friends and family have a favorite cookie of mine. I can't go to holidays without bringing my frosted sugar cookie cutout cookies (first picture on the left). They are not fancy...just a good sugar cookie with good frosting. I'm protective of all my recipes, but this one I am especially protective over! It's one of the first things I baked on my own on summer vacation from school... bored...at home...in the boonies. I've had relatives who live nowhere near me ask for it and I tell them "sorry I can't." I once gave it out a LONG time ago to a relative....okay it was my mother-in-law...and it has since been destroyed. I know...I'm crazy!! Who calls their mother-in-law years later and asks them to destroy a recipe they have never given out or used?? Me!
Macarons are something I have recently started making. And before we start arguing macaroon vs. macaron...it is macaron. If you want a little history/terminology on it, click
here
. I called it macaroon at first because Martha Stewart did...so I thought it had to be right! It wasn't. I personally don't care what you call it or how you spell it...they are little, yummy, and naturally gluten free!
I normally don't do the "fancier" decorated cookies, just because I have such a preference to the frosted sugar cookie in my personal life...but when a customer asked me for bride and groom cookies, I just couldn't pass it up. Give the customers what they want right?! I have an aversion to royal icing...not a fan of the rock hard icing that doesn't taste like anything. But I needed frosting that would harden so I found an alternative that I am happy with and have used for the decorated cookie orders. It tastes and looks good! I don't have a full list of cookies like I do for cupcakes. I just go on a asking basis....you have a cookie you like/want...you ask me...I bake it!
Side note: the holidays are just around the corner and cookie exchanges are very popular. If you have a cookie exchange to attend but don't have the time (or don't want to) make 9 dozen cookies....call me! I'd be more than happy to do it. I also offer cookie decorating kits at Christmas time (includes 2 dozen cookies, 3 colors of frosting, and 3 colors of sprinkles), so order a kit to decorate with the kids, friends, or co-workers. These are also good to order for birthday parties or sleepovers all year round.
(Some popular cookies- sugar cookie cutouts, sugar crackle cookies, peanut butter, cranberry white chocolate oatmeal, chocolate chip, soft ginger, and pumpkin harvest)
Pie! Surprisingly enough, the majority of pies I have made as Steph's Sweet Treats have been for weddings. I made banana cream pies for a wedding last year and apple and strawberry rhubarb pies for a wedding this past weekend. Both had
pies
in addition to cupcakes. The pies on the left were gluten free apple pies made last year. Fall screams pie to me, so it is likely that I will throw a pie or two into my open days. They would be for sale as a whole pie, not by the slice. So if you are a pie lover, keep an eye out. My husband has a new found love for pie after eating a strawberry rhubarb pie I made a few weeks ago...he now thinks we need a pie in the house at all times!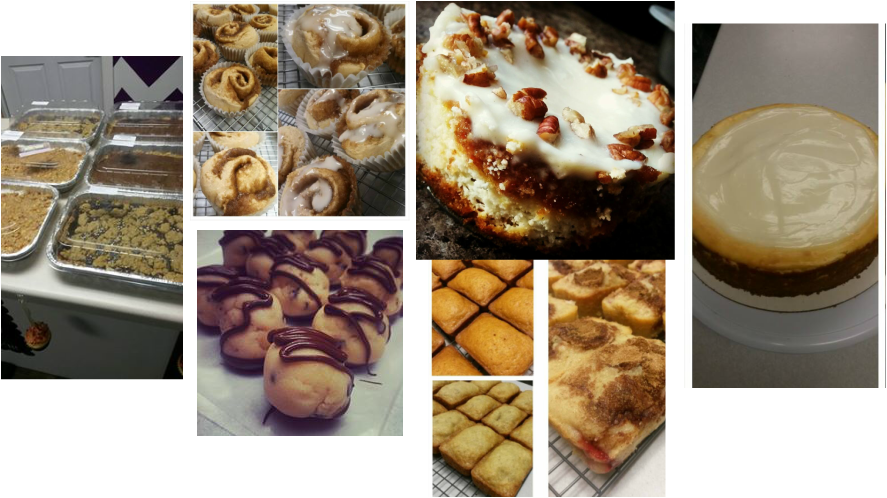 Other treats-
Bars- brownies, scotcheroos, chocolate oatmeal bars, raspberry oatmeal bars, pumpkin bars, banana bars, etc
Cinnamon roll muffins (or other muffins)
Chocolate chip cookie dough truffles
Cheesecake- carrot cake cheesecake, New York style cheesecake, raspberry cheesecake, chocolate cheesecake, etc.
Quick breads- pumpkin, banana, strawberry rhubarb, apple, etc.

Other treats not traditionally found in a bakery that I make at home, just need to test out at the bakery before the holidays:
Caramel corn
Homemade marshmallows-want to sell as a kit with homemade cocoa mix

In other words....if you want a sweet treat....I do my best to meet your needs! While cupcakes are the main focus or the bakery and at open days, I want people to be aware there is more to Steph's Sweet Treats. Because not everyone wants cupcakes...what??...crazy...I know!!

I also want to incorporate some other treats here and there at open days so people have a chance to try more goodies! I'm thinking (depending on the month) a whole pie or cake, cookies, small loaves of a quick bread, or individually wrapped bars. Granted, it all depends on the month and how much time I have, but I hope to have a few of these items at the October open day! Don't want to wait for an open day? Order whenever you want!

Thanks for another week of orders! Two more weeks of multi-wedding madness and then I think I can breathe again...I love every minute of it!...except for the dishes :)