I have had countless people relive memories when they come to my shop. My building has been many things over the years, but it is most remembered for being Ward Brodt Music. In fact, I have relatives who bought instruments here! Before I made it Steph's Sweet Treats, it was an office. Sooo....it wasn't exactly set up for baking! The journey of making it a bakery was a stressful, interesting, and rewarding one. So I thought I'd show you the changes Steph's Sweet Treats has undergone since then.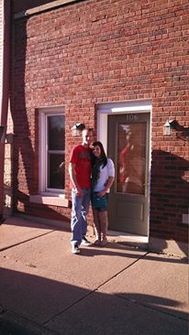 This is the day the building became mine. What an exciting day! Then the nerves set in...I had to remodel and make a name for myself. I didn't know how the community would react to my new business, especially since I'm not a traditional bakery with regular hours. Thankfully, my husband and family believed in me!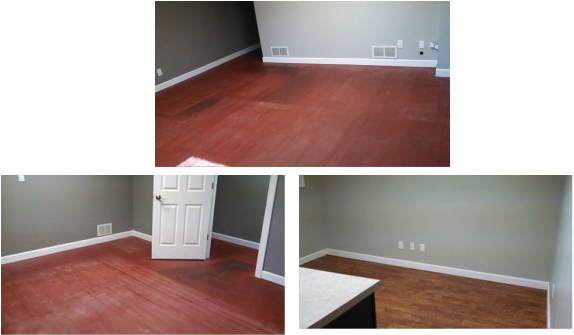 Oooh...ahhh...right? Just kidding. These pictures don't look like much I know...but this is what the building looked like when I got it. Three rooms..not much else. The top picture is my front room and the two rooms on the bottom have now become my kitchen. I knocked down the wall and added a whole bunch of stuff!

Above are some progress pictures I had of the kitchen remodel. The floors were ripped up and replaced with concrete and pretty speckles, I got cabinetry from Habitat Restore, plumbing had to be added for my three compartment sink, which I got from a Quizno's that went out of business and I got my work table from another bakery. For the most part, the kitchen looks the same now. I do have another work table in the back, another mixer, more decorations, more storage bins,etc....and more aprons of course.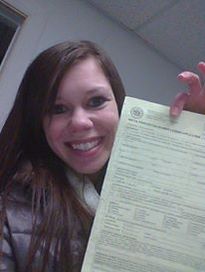 Once the kitchen was done I got my license!! This is my overjoyed picture with the temporary license I received before my official one got mailed. The rest of the decorating has been in progress since then (December 31, 2013). The front room has changed A LOT over the last year and a half, and is still changing.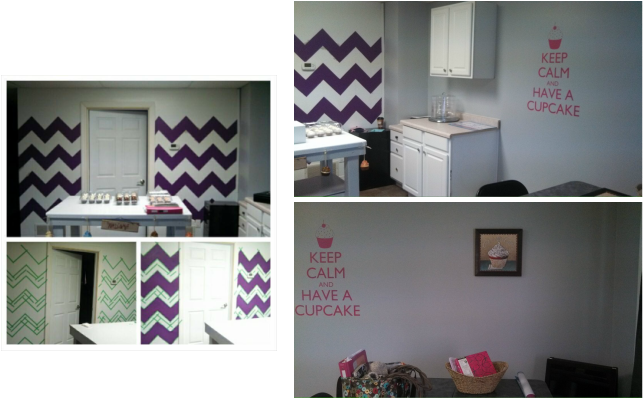 One of the first things I did to decorate the front room was paint the chevron wall. My method was completely amateur, took so many hours...and I still can't believe I pulled it off! I cut a cardboard square, traced it over and over until the wall was all squares...then I used the cardboard on a diagonal to make the chevron pattern, taped off every other row, and painted the other ones. I love it! But the rest of the front room was still pretty bare.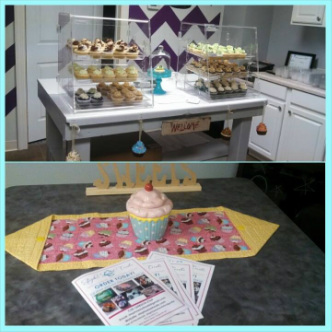 I can't believe I managed to do open days with this little front counter! Even if it wasn't an open day, this is where I had people's orders. This alone shows me how much Steph's Sweet Treats has grown in a year. The table in the bottom of the picture got covered with photo albums, menus, and t-shirts over the year. However, I am trying to get my front room to look less cluttered...so I have made more changes...yet again!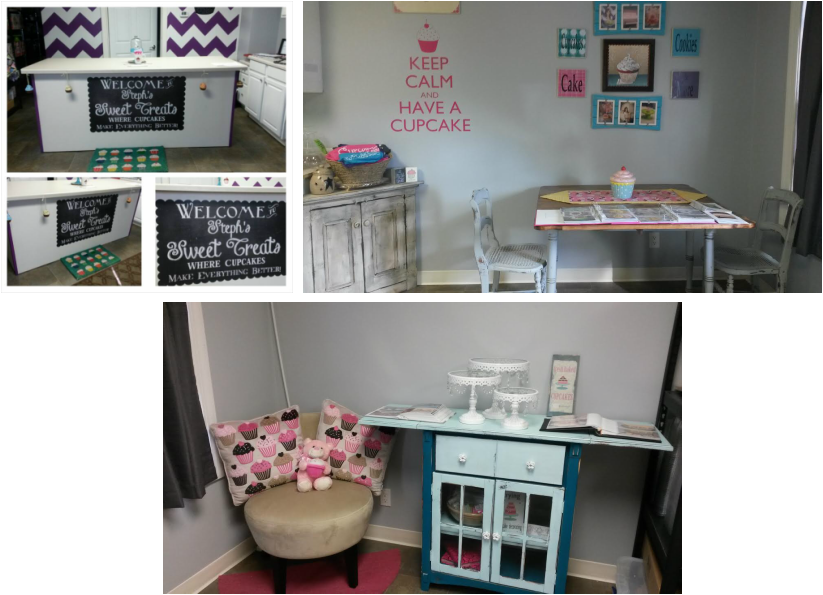 My amazing and talented uncle made me my new front counter at the beginning of this year and I have no idea what I would do without it. Besides having a lot more counter space, allowing me to use four display cases instead of two, it also has a ton of storage space in the back. Even this picture isn't completely up to date. I have a different rug in front...but it's still cupcakes!
Like I mentioned above, I want to make the front room more decorative and less cluttered, so I got some new furniture...well new to Steph's Sweet Treats. I got a new table and chair set and custom buffet from the amazingly talented
Perfectly Imperfect-for the home
. Check her out, I'm totally using her to furnish my house next!
I'm not completely done decorating these new items. I plan on putting the photo albums on the wall next to the door so that I can free up the whole table. I will fold down the front leaf and leave it simple with the table runner, jar, and chairs. I just threw some things on the buffet so that it didn't look completely bare. I will be moving the albums and adding other items...still figuring it out. I'm also removing the cupcake on the wall (not pictured) and putting something fun up. You'll have to wait for pictures of that one...so watch the facebook page!
So while I'm finally almost done decorating, I still have some things I want to do to Steph's Sweet Treats. I want to add some more shelves in my kitchen and replace the big black storage shelves that make everything look cluttered in the front room with enclosed white cabinets. Those will have to be custom made...so I just want to wait for one of my talented relatives to get some free time. :)
I hope to make Steph's Sweet Treats a memory spot for people. Years from now I want for people to be able to say "remember when" and reminisce over great Steph's Sweet Treats memories!
Thanks for another week of orders!