I apologize for the corny play on words for the title of this post. I just couldn't resist! This blog post is a two for one special...there's a short review of my stitch fix items, and then and important section on timeliness. Please read that bit, it is especially important.

First up...my October stitch fix box arrived last week. I went over a month without getting a box! In case you don't know what I'm talking about...

What you need to know about Stitch Fix:
-You fill out a detailed style profile of your likes, dislikes, sizes, how much money you prefer to spend, etc.
- You choose how often you'd like to receive a fix. Each time you can ask for specifics if you have something specific you want, or have an upcoming event to attend.
-A stylist chooses and sends you five items based on your wants, style profile, fashion pinterest boards, etc. Items can include clothing and accessories.
-You pay a $20 styling fee for the fix, BUT if you keep something from you Stitch Fix the $20 is credited towards your total. So the only time you "lose" $20 is if you send everything back. Bonus: If you keep all five items you get 25% off everything!
-You get three days to try on your items and decide, then you checkout online and send back what you don't want in the prepaid shipping bag you get with your box.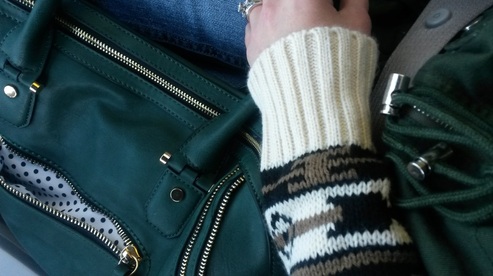 This month I asked for transitional fall pieces. When I opened my box I must admit...I wasn't very excited. For some reason I think that I need to see a whole bunch of colors for it to be a good box...and that's far from the truth! Here's a look at what I got, and if you want to sign up and give it a try, click
here.
You'll notice I actually put the clothes on for these pictures (I normally just take a photo of the clothes on a hanger)...but I still cut my head off. Sorry, a long day at the bakery doesn't make for great photo face and hair...if you've done a pickup from me after I've been baking all day you know what I mean! Side note- don't you love my phone cover?!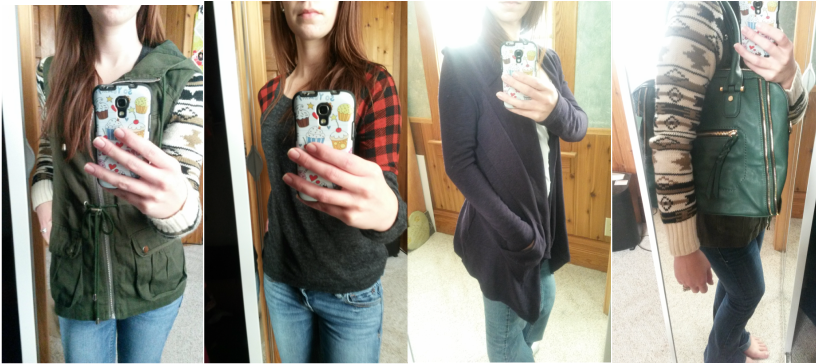 From left to right:
Fate Eliza Jacket- A few years ago I realized I have a jacket problem...and by problem I mean I had far too many of them! I stopped buying jackets and I got rid of the ones I didn't wear (okay I bought a new winter jacket last year...but I needed it I swear!), but I don't really have a "fall" jacket. I love military green and the sweater sleeves of this jacket had me right away. I also loved that you can pull in the waist a bit by tightening the strings. A keeper for sure! Now I can be done buying jackets....
THML Knoll Pullover- I also happen to love plaid shirts. I normally wear them in a button-up version, but I loved the play on plaid in this pullover! Instantly knew I wanted to keep it.
Laila Jayde Salderas Hooded Cardigan- I love cardigans, especially cozy ones. This one was a gorgeous purple color, thick, and it had a hood! The downfall....it kind of looked like I was drowning. I don't mind longer cardigans, but my husband refers to them as my blankets....so I knew I shouldn't keep it considering I have a few blankets in my closet already.
Urban Expressions Elisha Zipper Accent Structured Satchel- Cute, cute, cute! I wasn't immediately sold on the color of this purse, but the more I looked at it and the more I carried it around, the more I fell for it. I annoyed my husband by asking him a million times if it went with my winter jacket....because it goes with the jacket I got in this fix, but I wanted to know about my winter jacket. He was no help since he says it didn't matter....it's a purse. Men... He liked it. I liked it. So I kept it.
Just Black Connely Skinny Jeans- Note- I didn't post a picture of these jeans. These jeans are one of the most comfortable jeans I have come across. They are a cross between jeggings and jeans. They are stretchy and comfy like jeggings, but a little thicker like jeans. Only problem....I have this exact brand, black, skinny jeans....but with an ankle zipper. The only difference between the two pairs was the ankle zipper, so I couldn't justify putting them in my closet.
I loved the jacket, purse, and pullover so much that I wore them all at once...which is what the first photo in the blog is of, but you can't see my shirt. Needless to say, I really enjoyed my fix! I loved the variety of items, I loved that my stylist gave me what I wanted, and it is just fun! If you want to try it for yourself just click
here.
Time is Money
Ok...now onto something I have been needing to acknowledge and address for quite awhile, but have just been dreading doing it. Being on time. Now, before anyone starts thinking I am talking about them, or apologizing if you have done it....I am not talking about anyone in particular and I am not doing this to point fingers, make people feel bad, or to make people mad.
I have had a really big problem with customers showing up late. It has always been a problem, but is getting progressively worse as time goes on. I do not want to punish customers, but I feel that at this point, it may be my only option. I am a by order bakery without regular business hours. When I fill an order and arrange a pickup time, I am there for you at that time...or in some cases, my father-in-law is there for you. Which means I expect you to show up at that time out of respect to me and my time, which I find very valuable.
Now I"m not talking 5-10 minutes late...that happens. I have had an issue with people showing up 20 minutes to an hour late without any notification, or without notifying me until 30 minutes past their pickup time or until I have contacted them to see if they are still coming. Some of you may be thinking what's the big deal if I am there baking and waiting for a customer? Sure, having cameras makes it easier for me to see people if they are outside and I can watch for them if they are late. But there's certain things I can't start if I am waiting on people to show up. That can really throw off my day.
When it happens on a week night or weekend it becomes hard for me because I do have other places to go or even deliveries to make. Time is money; time is limited; time is precious; and there's never enough hours in the day. I get it, things happen...you run late, you can't get the kids out the door, you get stuck in traffic, you get stuck at work....I get it. I'm just asking for people to make a conscious effort to be on time or let me know if you anticipate being late.
If this continues to be a problem, I will have to start enforcing a late fee. Before you freak out...if you tell me you are going to be late or something has happened causing you to be late ahead of time, you wouldn't be charged. The fee would be for the no show, no warning until the pickup time has already come and gone, or the excessively late without being told.
Again, I HATE to do it, and I hate even having to say anything...but trust me when I say it is a last resort and I am only saying something because it has become such a problem. Please remember, I am not pointing fingers at anyone, this is for everyone to keep note of as a whole.
Thanks for another week of orders and I hope to see you Friday at the open day!!