I have a lot of fun ideas to throw at everyone so I hope they inspire you to order some fun fall goodies! I don't have pictures of everything, so I apologize in advance....you will have to use your imagination and trust that these ideas will look cute! If you are having Halloween parties, need a school or work treat, or are having a Packer party in the next month, this post is for you. There's also a fun section at the end of this post...it's a shoutout to my open day helper...aka my husband!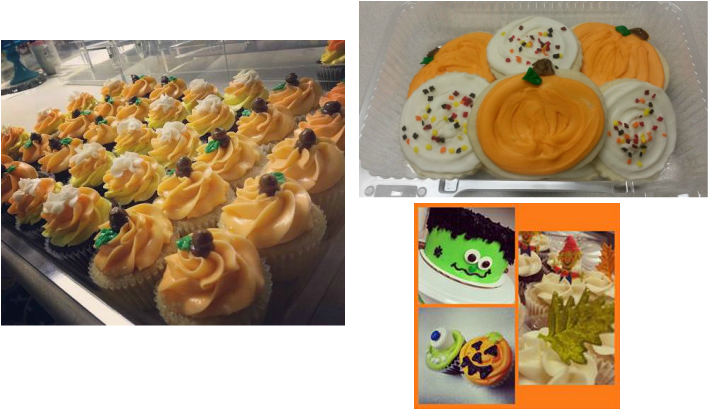 If you came to the open day these cupcakes and cookies may look familiar. These cupcakes are cookies are simply decorated, but scream fall. Candy corn and pumpkin frosted cupcakes anyone? How about fall leaf or pumpkin frosted cookies?? These particular designs can go all the way through Thanksgiving. If you are looking for something a little more Halloween, how about jack-o-lantern face cupcake, Frankenstein cupcakes, ghost cupcakes, or any of these in the form of a cupcake cake?

The small photo collage are some examples from last year. Cute Frankenstein cake, jack-o-lantern and one eyed monster cupcakes, as well as some neutral fall cupcakes with leaves and scarecrows. The possibilities are endless! I have a lot of other ideas, so just contact me if if you want to order and I will be sure to design something around your wants/needs.

Not into the whole "fall" thing?....well lets hope you are least into the Green Bay Packers! Now, now, settle down if you are fan of another team, I can bake goodies for your team too....I'm just going to focus on the Packers...well, since I cheer for them!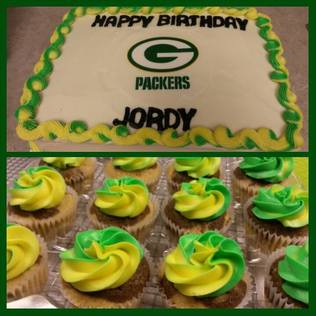 If you are throwing a Packer party you need dessert! I can do cupcakes, cakes, cookies, or a combination of these to fit your party. Along with the edible image and swirled frosting, I also have little Packer helmet and football cupcake toppers. Now, I'll take a moment (a small one) to mention that I do have images and toppers for those of you who may be Vikings fans. I won't even yell at you for cheering for the wrong team if you order them :)
Shout-out to my Husband
My open days have been getting bigger and bigger. More cupcakes, more customers, more traffic....all of which is amazing, but also VERY hard to do on my own. My mom helps me out when she can, whether it's running the cash register for the day, or stopping by after she's done with work to watch the front while I run around like crazy in the back trying to finish weekend orders and do dishes.

Well....for the October open day, I asked my husband if he wanted to help me. He does wedding deliveries with me...he even does wedding deliveries solo now when we have multiple deliveries! So he took a vacation day from work to help me at the bakery...allll day....all 13+ hours. I can't park in front of my building due to the 2 hour parking regulations, so I rent a spot nearby. Since I only have one spot, my husband came in when I did...wakey wakey at 3am!

I kicked off the morning by baking what I needed to bake for the weekend orders (the ones that didn't go with the open day). While I did this, my husband chilled a bit until I could take a moment to give him something to do. He wanted to help, so he added the last minute touches to some of the cupcakes (pumpkin on the pumpkin cupcakes; chocolate covered pretzel on the sweet n' salty), and he put the finishing touches on the pumpkin bread by adding a baker's twine bow.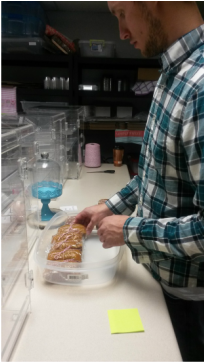 I did one loaf to show him and then let him go to town doing the rest. It was pretty funny since most guys don't tie little bows on a regular basis. He struggled with getting the loops up to his standard...thankfully there were only 11 loaves! Sorry for the crappy photo... I was in a hurry so I ended up cutting his head off and the front lights were still off so people didn't think I was already open. Oops!

Around 5:45 am he started getting nervous because I had yet to show him how the cash register works. So we got that taken care of, did a practice run, stocked the cases and opened the doors...and it went smoothly all day. So smoothly that I told him he now needs to help me at all open days! I don't know if that will happen, but a girl can dream. If he wasn't running register, he was helping me restock the cases, packing an order if there was a line (I'd do one, he'd do one), holding the door to the case if it made things faster, or grabbing stickers.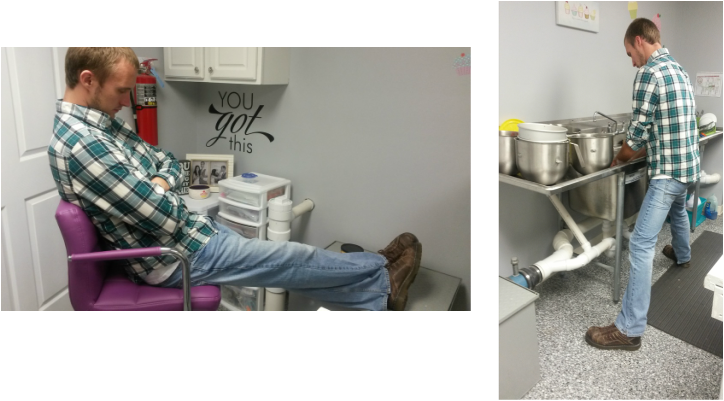 The mornings have gotten really crazy since customers now know that if you don't come early, you may not get what you want. By 11:00 Aaron was exhausted. Ok... he wasn't really exhausted, but it was definitely a lot of running around and once the really busy morning hours pass, sleepiness sets in. He even did my dishes for me! Ahhh so nice. Did I mention how much I love this guy?! (And yes, he really stands like that when doing dishes...apparently bending hurts his back so he just does that)

It was another successful open day for sure! We ran out of quite a few flavors in the morning and were limited to just a few most of the afternoon. I promise I made a lot; I'm sorry if you did not get any or you were disappointed to only find limited flavors available. Just how many did I make/sell?

888 cupcakes
51 cookies
11 mini loaves of pumpkin bread

P.S.- for all you chocolate chip cookie dough lovers who didn't get any- I started with 133 of them and ran out by 9 or 10am- I feel like I can never make enough of them. Sorry!

Thanks for another week of orders and for another successful open day!!