I try to post pictures of most of the orders that go out the Steph's Sweet Treats doors, but nobody really knows the story behind the order, the customer, or the trials and tribulations. Sooo I thought it would be fun to give you some background information from time to time....starting with a few of last weekend's orders!

First up, let's talk about the super fun elephant sculpted cake I got to do! I got a picture via text from this customer asking me if I could make a cake for her like the one pictured. I was super excited to see the cute baby elephant looking back at me via text because it is a photo I have had saved on my own for quite a while, just waiting for the chance to make it. I thought I was making a smaller version of the photo, but after it was all said and done, I think it was actually the same size.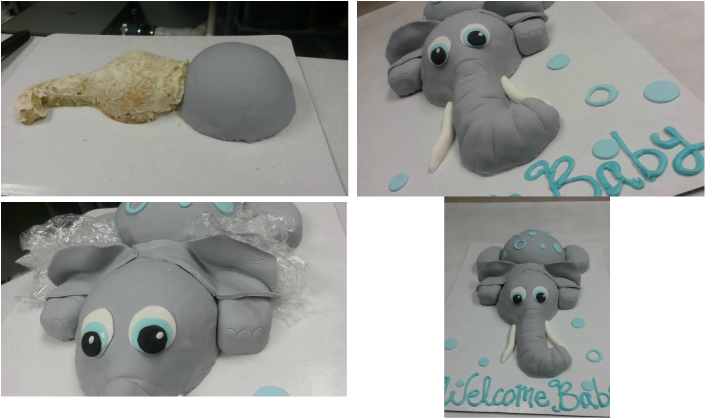 I LOVE when somebody asks me for a cake I've never made before, or for something I've been wanting to try....but it is definitely nerve wracking. I tell myself I can do it and keep reminding myself to envision the end product. Because, as you can see from the top left picture, things aren't always pretty in the middle of the process.

The ears of this little guy proved to be the most challenging...getting the right size and "wrinkles"... but not so much wrinkle that they would fold in half. That plastic wrap was used during the drying process so they would stay put and get the shape I wanted...which was another battle on its own.

After it all came together I was pretty darn happy. Even though new cakes and techniques can be scary, it is a great feeling to pull it off. The only downside to new cakes, especially something sculpted like this, is that you have to guess on time, cake, materials, etc.....so you usually end up undercharging. Which I did in this case...but it's a gain in my book since I got to try something new and learn! So thank you customer for ordering a cake I have been wanting to make for a long time!

Next up, the gambling themed cupcake cake. I chose to talk about this cake because I have made several cupcake cakes for this customer now, and they are always fun...and I am given the freedom to fit their theme however I can make it work! The order this past week was for the customer's mom and dad. After putting in the order, her husband reminded her that her brother had a birthday a few days later....so we added him to the cake too! Thank goodness her husband remembered the birthday or this cake would have looked very different! Let me tell you why....

When the initial order was placed, I was told the parents like to go on the boat and play cards. Now I'm not a gambler...so in my head I was making a boat and a set of cards, both on the same cake board. So when she called back to add her brother, I asked if this boat was the sailing kind or fishing kinds....hahaha silly me...they gamble on the boat! Phew! So glad I got that cleared up! (Note: I would have called to clarify the type of boat before making the cake-but it got cleared up/fixed faster since she called me first)

The other two pictures are of this customers other two fun cupcake cakes. The turkey was for her husband's surprise birthday party and the other was for her twins. Always know it will be a fun one when she calls!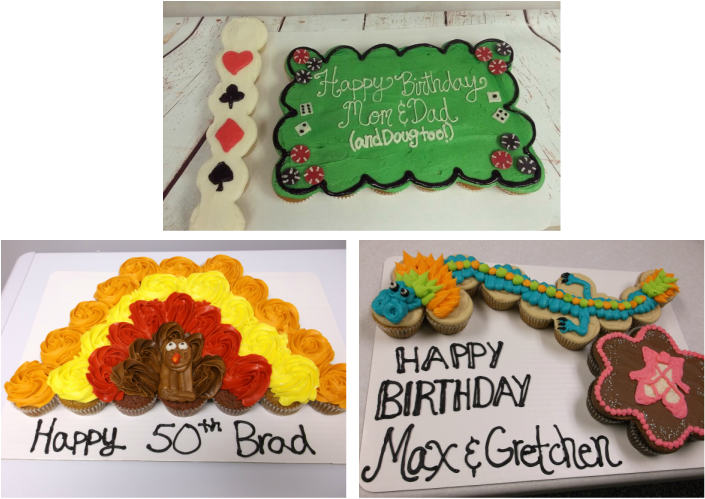 The last story behind the order from last weekend is a fun pink, gold, and white cake. This too was for a returning customer. I got to make a firetruck cake earlier in the year for this customer; she returned for her daughter's cake. She told me the colors and gave me two example of my cakes that she really liked. One being a rosette cake, or ombre rosette, and a purple dotted cake I had recently done. After telling me she liked those two specific styles she also said she trusts me, so I could do whatever I wanted.

Hearing that a customer has given me some freedom because they trust me is always a great thing, but also very scary! Because even though someone says they don't care, or they don't have something specific they want...sometimes they secretly do. So since I can't see what's in their head unless they tell me, they may not be completely satisfied...which I never want!

I went out on a limb for this order and tried something I thought she would like based on what she said....I also made it something I haven't done before, so it was new for both of us. Risky?...not completely risky since I was confident I had picked up on the styles and aspects she wanted. But isn't every order just a tad risky in a sense? You just never know what images the customer has in their head/if what their envisioning is the same as me. In some cases, with a more elaborate cake, or if I need to clarify a design with a customer, I will sketch it out and send them a picture just to make sure the visions match.

All went well because she loved it! I mixed the rosettes she likes in with another texture, and used dark pink, light pink, and white for a different play on ombre. The gold pearls not only fit the gold in her theme, but also added a girly aspect, which she had talked about.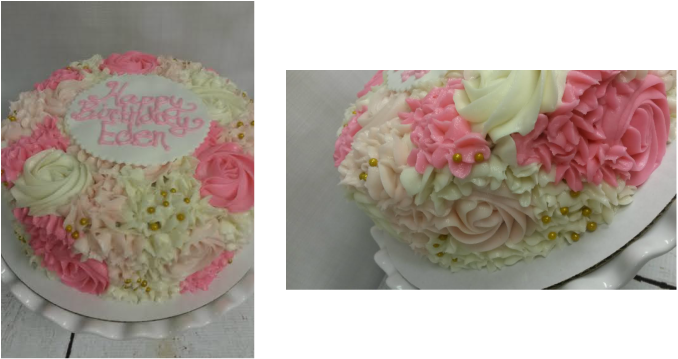 I hope you enjoyed the look at the stories behind of some my orders. Don't forget about the open day next Friday and thank you for another week of orders!