It's stitch fix time! If you're not into clothes/fashion don't run from this blog just yet! Stitch Fix is made for people who don't like going to the store or never know what to put on. Plus, there is a bit at the end about the Steph's Sweet Treats 2016 calendar you'll want to check out!

What you need to know about Stitch Fix:
-You fill out a detailed style profile of your likes, dislikes, sizes, how much money you prefer to spend, etc.
- You choose how often you'd like to receive a fix. Each time you can ask for specifics if you have something specific you want, or if have an upcoming event to attend.
-A stylist chooses and sends you five items based on your wants, style profile, fashion pinterest boards, etc. Items can include clothing and accessories.
-You pay a $20 styling fee for the fix, BUT if you keep something from you Stitch Fix the $20 is credited towards your total. So the only time you "lose" $20 is if you send everything back. Bonus: If you keep all five items you get 25% off everything!
-You get three days to try on your items and decide, then you checkout online and send back what you don't want in the prepaid shipping bag you get with your box.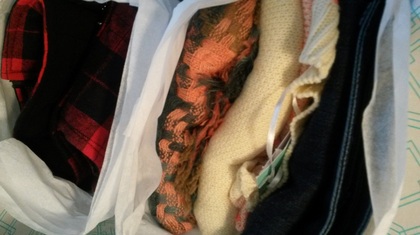 Before I review the items I received in my box, I want to say I was not compensated in any way for this review, I just like sharing it. Also, if you want to give it a shot, click
here
to get started!
I was pretty excited about my box before even looking at my styling cards or contents (the stylists also puts together outfits for you so you have options on how to style each piece). I opened it and could see just from the side view that it was items that I had asked for. My stylist is GREAT at giving me what I ask for. I asked for flare jeans, a scarf (but not a blanket one-new trend that's definitely not for me), and cozy winter items that are not bulky. My stylist pulled straight from that, things I pinned on Pinterest, and from things I had mentioned previously. So here's what I got:

So clearly I still wasn't brave enough to pose for the pictures when my face (yet again). So headless photos of me scrunched into a corner taking my own photo will have to do!

From left to right:
Level 99 Blossom Flare Jean- I've said it before, but I'll say it again. EVERY pair of jeans I have received from Stitch Fix have been magical. They fit so perfectly, and these were no different. The only concern I had was that my shorty legs can't pull off a flare. But they were so comfortable I just couldn't pass them up. Plus, I tried them on again with heels in my full Stitch Fix outfit (pictured below) and loved how they looked. Keep!

Look by M Cliff Checkered Woven Infinity Scarf- I LOVE scarves, especially infinity scarves. I have plenty of them, but don't have one this color/colors so of course I HAD to keep it. I was so happy to see my stylist listened to the part of my note where I said I didn't want a large scarf. This one is the perfect size for me. Keep!

Pixley Tyenna Plaid Puffer Vest- I also love plaid, which I mentioned to my stylist previously. She also paid attention to my pinterest board on this one. I had mentioned vests in my "wants" and on my board I pinned a vest I actually bought from another stitch fixer so she would see it and not send it to me. She saw that it was a neutral vest, so opted to send me this plaid one. It's reversible, but I think I would always wear it plaid side out. It's not like a regular puffer vest that has literal "puff" to it. (That "puff" in front is my hand in my pocket). I liked that it wasn't actually puffy because I have a puffy vest that always makes me feel like a marshmallow....so I end up changing a few hours later. Bonus: my husband also likes plaid. This vest was a definitely a keeper!

Alice Blue Daphne Open Cardigan- I loved the colors of this cardigan and the fact that it actually fit me. Wasn't too long or bulky, and wasn't something I have anything similar to. The downside, I couldn't figure out if the sleeves were meant to be scrunched up or left down, and it looked lopsided on me. I put it back on later and it looks like I just had it on a little funky the first time because it was no longer lopsided. I kept this cardigan because of the discount but I'm not sure what I will do with it yet. I will probably keep and wear it, pass it along to a friend or family, or another stitch fixer.

Loveappella Caracas Stitch Detail Knit Top- Okay....this top looks so simple...but the knit detail and the softness of it made it more than a plain long sleeve shirt. Normally, I would not have kept the top....but if you keep all five items in your box, you get 25% off. Which essentially gives you one or more items (depending on price) free. So why not keep it??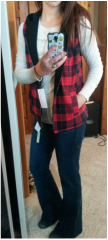 Soooo after it was all said and done...I kept the whole box! I especially love when items in a box pair well together. For the picture on the left I put on the jeans, the long sleeve, and the vest. I don't have my next fix set up to arrive until January, since there's a lot of Christmas shopping to do, and because I'm trying to force myself to go back to my original every other month set up...but it's so hard! Want to give it a try? Click
here
.
Now onto the second part of this blog....2016! Yikes...the year is almost over! Why am I forcing you to think past Christmas already? Because I made a Steph's Sweet Treats calendar! Each month contains pictures of Steph's Sweet Treats cupcakes, cakes, weddings, event, etc. Not only do you get to look at Steph's Sweet Treats goodies all year, you get stickers for important days! You will get stickers that say "Open Day" so you never forget to stop at a monthly open day, and "Place Order" and "Pick-up Order" for the other times of the year you need goodies.


These make a great gift for a Steph's Sweet Treats lover, or a gift for yourself. If you'd like to order one, contact me via email or Facebook and I will put you down. The calendar and sticker sets will be $20. The above pictures kind of have a glare on them...they look so much better in person!

As usual, thanks for another week of orders and thank you for making the open day last week a huge success!