This October had five weekends.....which meant more chances for weddings! I had weddings four out of the five weekends, with a total of six weddings. But how does that add up? A triple wedding weekend of course! Here's a look at the Steph's Sweet Treats October weddings.

October 3rd was the first weekend of October and it was a triple wedding weekend. It was also the first time my husband and I have been able to deliver all three! Usually with multi-wedding weekends, we deliver one (two max) and the other party, or parties are responsible for picking up and setting up their own. This weekend just happened to work out location and timing wise for us to do all three. Two were located in Dodgeville, so we split and each did one, then we came together and went to Dubuque for the third. The third wedding had a cocktail hour in a separate room from where we had to set up so it worked out perfectly!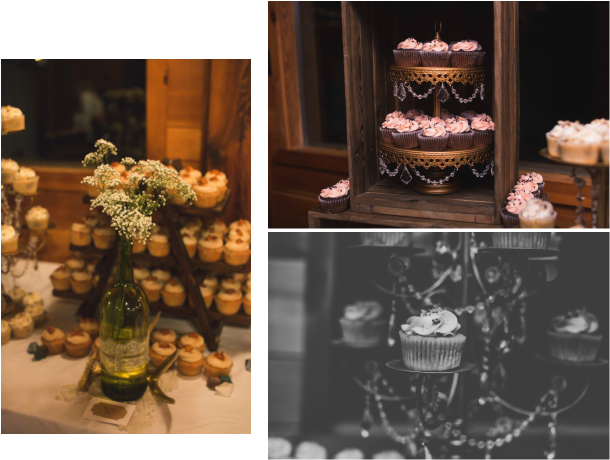 The wedding above was 250 cupcakes at Barn 23 in Dodgeville: apple pie, lemon poppy seed, chocolate covered strawberry, and almond joy . I set this one up and was so honored to do so. The bride of this wedding use to make my Steph's Sweet Treats shirts, so I know her personally. I used a combination of my wooden crates, gold stands, and wooden ladder to go with her theme. The bride is also best friends with the amazing
Kelsey Jean Photography
, so the above photos came from her!

The left and middle picture are from the wedding my husband set up at Dodger Bowl in Dodgeville. It was 200 cupcakes: vanilla raspberry, dark chocolate ganache, chocolate, and funfetti. My husband is great at doing wedding setups with me, but he was very nervous about doing it all on his own, especially since we were on a serious time schedule. He set up a anniversary party on his own for me once, but this was his first solo wedding delivery. As usual, he did amazing! He has a few other weddings to do on his own next year, so this smaller one was good practice! The couple provided the setup and I think the simplicity looked great.

The third wedding from October 3rd is on the far right. This is the one my husband and I delivered together after doing our individual set-ups. It was as the Grand River Center in Dubuque- 250 cupcakes vanilla, chocolate, lemon raspberry, peanut butter patty, and funfetti. It was my first delivery to Dubuque and the place was beautiful!

The next wedding fell on October 17th. It was 300 cupcakes at Deer Valley Lodge-funfetti and red velvet. Their decor was all red and white, so the fact that the bride and groom each picked a flavor that coordinated with their colors, made the cupcake table fit in even more perfectly! I used my crates, gold stands, and stairs for this set up. These stands have been the most popular this wedding season! These photos came from the amazing
Kelsey Jo Photography
(with whom I went to school with/was in cheerleading with) I'm being to see a theme here....if you have the name Kelsey does that just make you an awesome photographer?? Kelsey Jean and Kelsey Jo knock it out of the park every time! Psst....stay tuned for a collaboration I'm doing with Kelsey Jo Photography in December. It's going to be a fun one!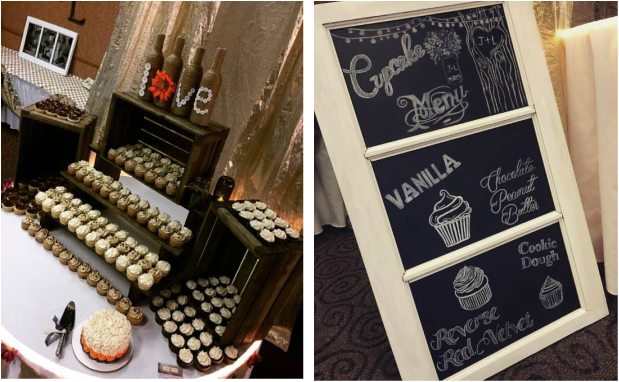 Next up: October 24th-200 cupcakes at the Quality Inn in Mineral Point- vanilla, chocolate peanut butter, chocolate chip cookie dough, and reverse red velvet. Everything about this wedding's decor was adorable! I used my wooden crates and stairs again for this wedding. I love using the same displays in different ways...so when I found out I would have a round table to set up on, I had to get a little creative....and I loved the end result! We were left with different decorations to add to the table, which is always fun and adds to the display. Did I mention how AMAZING the cupcake menu was??? The brides friend made the chalkboard window menu on the right. It was dreamy!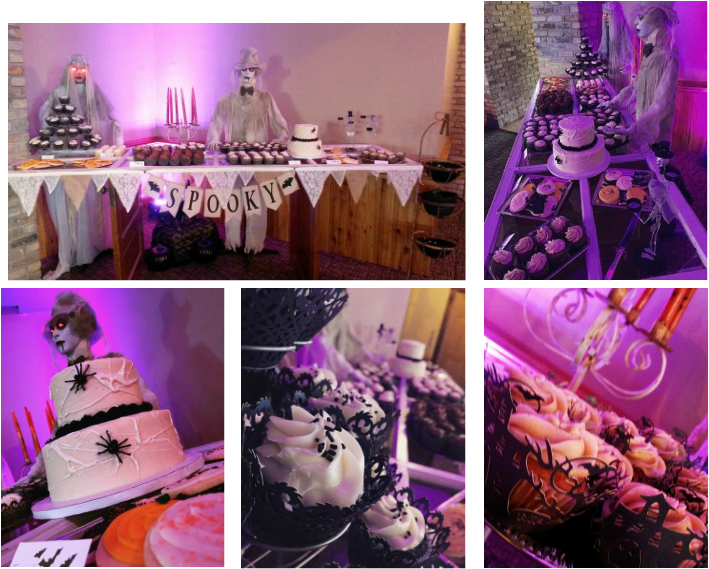 The last wedding of the month was a super fun Halloween wedding. Not only was it fun because it was Halloween, but it was for a classmate of mine. It is always a HUGE honor to be asked to bake for a classmate, friend, family, or just someone I personally know. I NEVER expect people to ask me just because they know me, so it is always such a pleasure when they do!

This wedding was 400 cupcakes at the Dousman House in Prairie du Chien- vanilla, chocolate chocolate, lemon poppyseed, dark chocolate raspberry, pumpkin, maple peanut butter; 132 cutout cookies, gluten-free lemon poppyseed cupcakes and gluten-free cutout cookies and a 2 tiered cake. The venue had a glass window/door table set up with a variety of trays. I just chose the trays I wanted and placed them where I wanted them and added the cupcakes! The couple also provided some really cool laser cut cupcake wrappers that added another dimension to the table.

Well that concludes October weddings! If you haven't booked your wedding with Steph's Sweet Treats please feel free to contact me for a wedding tasting!

Thanks for another week of orders and I hope to see you at the open day Friday!