I really liked giving some background and "behind the scenes" info on orders the first time around....so I decided to make it a monthly thing. As long as there aren't more pertinent things that need to be blogged about, I will do some behind the order stories. Sooo let's get started with a few recent orders!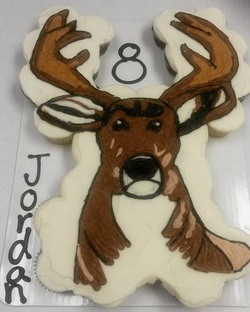 I'll start with this deer cupcake cake. This cupcake cake was for a very good customer of mine. She has ordered countless times, comes to open days, and it's always fun to think up something to fit what she needs! This time around she told me her son wanted a deer on something or camo;he loves hunting. She gave me numbers and flavors and left the rest up to me. I really wanted to do a deer cupcake cake, so I looked at some photos, laid out the cupcakes to the rough shape of what I wanted....then the real work began! I had to "bring the deer to life" if you will. I was very pleased with the end result, and I hope Jordan enjoyed it as well! Below are some of the other cupcake cakes I have done for this customer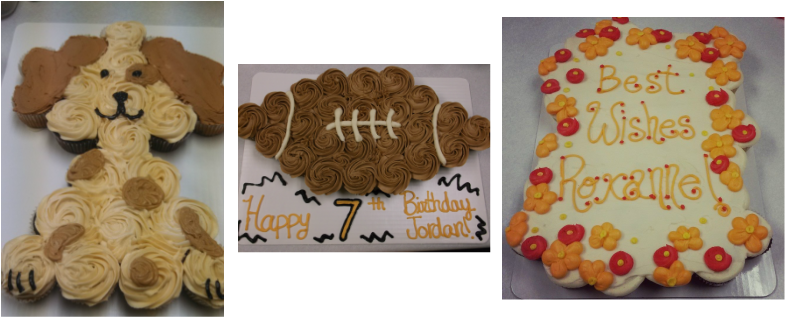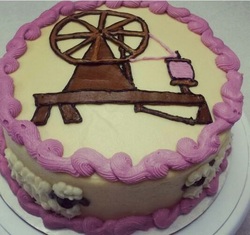 This cake for a very kind and supportive customer. They have supported me with kind words, have praised my not breaking copyright laws, and they have even gone as far as to bring me ingredient pricing from a bulk store they shop at as well as a super cute apron!

As you can see, the person is very giving. They contacted me because they wanted a special cake for a special 75th birthday. The birthday girl is part of the customer's knitting club. Not only does the she knit...she's spins her own yarn from her sheep!

So I incorporated all of that into this triple salted caramel cake. See the cute little sheep on the sides of the cake?!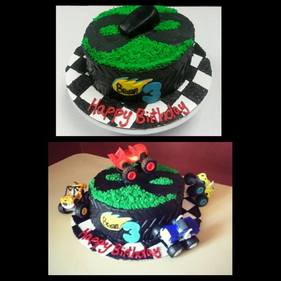 This next order also happens to be for a repeat customer who lets me get creative! This time her son wanted a Blaze and the Monster Machine cake. Before I get into the order, let me just say I am totally out of the loop on cartoons! Unless your talking the time of Rugrats, Rocko's Modern Life, Bobby's World, and Hey Arnold!....I probably don't know the show. There's a few exceptions because I do have a niece and nephew...but for the most part... I'm stuck in the 90's when it comes to cartoons!
Anyways....Blaze and the Monster Machine.... So as many of you know, I'm one of the few bakers who sticks to not breaking the law on copyright/licensing. That means cartoons, sports teams, superheros, logos, etc...are off limits. For the details on the laws and what I can do
read this
old blog post of mine.
This customer happily obliged to the laws and got toys to add to the cake. I made the cake with a race track, ramp, checkered flag base, and tire tread on the sides of the cake, and she provided the legally purchased (not replicated) toys to add to it. Pretty awesome for legally done cake right?! Below are a few more fun cakes I have made for this customer.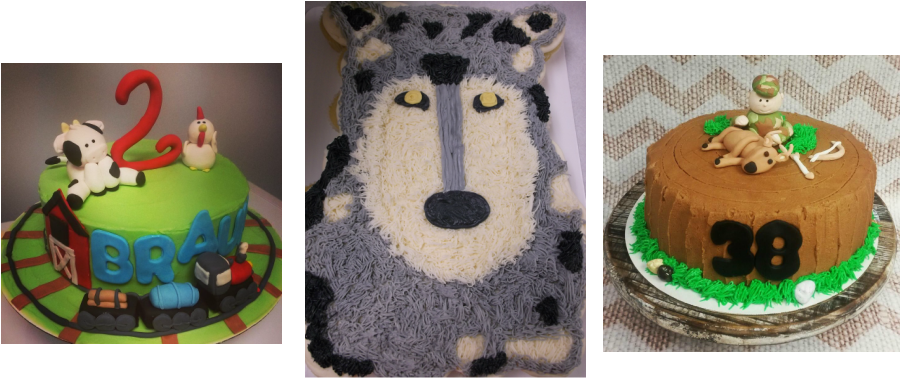 This last order was special in so many ways. This wedding was for my brother-in-laws brother's wedding. That's a mouth full I know... I've been around my brother-in-laws family long enough now that some of them seem like family in a way since I see them several times a year at birthday parties and other functions. So, baking for his wedding was an honor. It was also special because the wedding was all the way in St. Louis...what?!?! Yes...St. Louis. I didn't deliver the wedding... it went down in several family members vehicles....which was totally nerve wracking!! Thankfully, everything made it safe and sound.

The cake design was also special because it represented each city the couple has lived in (the cupcakes represented their favorite football teams). It became even more special when I got to see customers (who I didn't know were even going to be at the wedding) eating and enjoying my cupcakes from states away. Below are pictures of the cake at my shop, everything packed up and ready for the trip, and the cake at the reception in St.Louis.

Thanks for another week of orders! If you need anything last minute for Thanksgiving I may be able to fit you in...just call, email, or message me on Facebook!