I'd say holiday season is in full swing...at least over here at Steph's Sweet Treats it is! There's cutout cookies galore and all kinds of decorated cupcakes. So this week I'm just going to give you a few more ideas for holiday orders and top it off with a little silliness.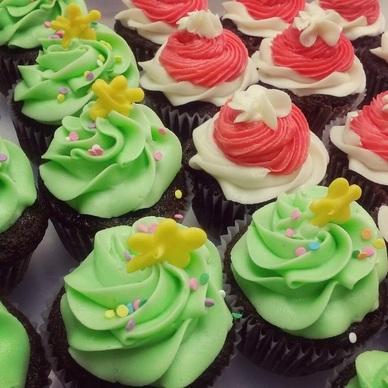 Need ordering ideas??
-Decorated cupcakes (Christmas trees, Santa hats, Santa faces, ornaments, swirled colors, toppers-I have trees, Christmas lights, and snowmen)
-
Promo pack #1 dozen cupcakes vanilla, chocolate and marble decorated -for week of Christmas pickup
-Promo pack #2 dozen cupcakes hot chocolate, gingerbread, and candy cane - for week of Christmas pickup
-Cookies
-Cookie decorating kits
-Cupcake cakes in the shape of a candy cane, wreath, Santa, Reindeer, tree, etc-contain 24-30 cupcakes
-Plus so much more! Contact me for details or to order.
Want ideas other than food? Check out the holiday gift guide post I made
here
.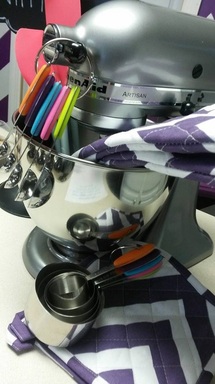 Also....don't forget your raffle tickets! Steph's Sweet Treats is raffling off this KitchenAid mixer (and everything you see with it!). Tickets are $5 and the winner will be announced December 31. All proceeds about the cost of the prize will be donated to the Iowa County Humane Society, so PLEASE get your tickets and help them out. Contact me to get your tickets.
Now onto a little bit of silliness. If you know me personally...you know I'm a big dork. Ever since I opened Steph's Sweet Treats I've been doing this thing where I turn songs into songs about baking. Maybe it's too much time alone in the kitchen, maybe it's my inner nerd...I'll just pretend it's because I'm creative! I think they are pretty creative and funny...but you might just think I'm weird. My husband tried to persuade me not to post them (he thinks the two of us are probably the only ones that find them funny)...but I'm doing it anyways!
At least it won't be completely embarrassing...my original idea was to make videos of my new tunes. You're welcome for not going that route! So here are some of baking lyrics! (I had to look up these real lyrics because I'm bad at figuring out what singers are actually saying and I'm so use to my version)
Song- All About That Bass by Megan Trainor
Real lyrics- "Because you know I'm all about that bass, 'bout that bass, no treble"
My lyrics- "Because you know I'm all about them eggs, 'bout them eggs, real butter"
This is the first song I turned into a baking song and now I just can't stop
Song- Shots by LMFAO
Real lyrics- "shots, shots, shots, shots (plus like 12 more shots)...everybody"
My lyrics- "cake, cake, cake, cake, cake....everybody"
Not the most creative, but hey it still works!
Song- Watch Me by Silento
Real lyrics- "Watch me whip, now watch me nae nae"
My lyrics- "Watch me whisk, now watch me bake bake"
Real lyrics- " Break your legs, break your legs"
My lyrics- "Break them eggs, break them eggs"
This one just makes me giggle
Song- Can't Feel My Face by The Weekend
Real lyrics: "I can't feel by face when I'm with you..but I love it....but I love it"
My lyrics: "I can't feel my hands when I bake cupcakes....but I love it...but I love it"
This would be confusing unless you know the story...so here's the story. I have circulation issues, and the mass quantities of cupcakes I frost on a regular basis has made it so my left arm/hand (since I'm a lefty) fall asleep all..the...time... Of course it's also really bad when trying to sleep on that side...none-the-less..."but I love it...but I love it" I also sing this one with the words feet in place of hands. Long hours standing makes for sore feet. So depending on the day, the song will vary for me...but I sing one of them every time I hear the song!
Thanks again for another week of orders and for making the open day so crazy busy and amazing!