Stitch fix time!! I haven't had a Stitch Fix box to review since November. I skipped December because of the holidays and all the presents I had to buy. But boy oh boy did I miss not getting my box! So I not so patiently waited for this box. Before I reveal what I got....

What you need to know about Stitch Fix:
-You fill out a detailed style profile of your likes, dislikes, sizes, how much money you prefer to spend, etc.
- You choose how often you'd like to receive a fix. Each time you can ask for specifics if you have something specific you want, or if have an upcoming event to attend.
-A stylist chooses and sends you five items based on your wants, style profile, fashion pinterest boards, etc. Items can include clothing and accessories.
-You pay a $20 styling fee for the fix, BUT if you keep something from you Stitch Fix the $20 is credited towards your total. So the only time you "lose" $20 is if you send everything back. Bonus: If you keep all five items you get 25% off everything!
-You get three days to try on your items and decide, then you checkout online and send back what you don't want in the prepaid shipping bag you get with your box.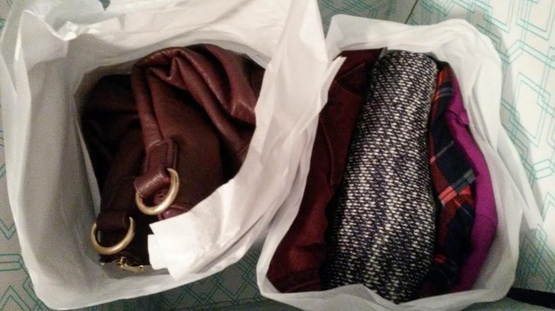 If you want to give it a shot, click
here
to get started.

So here's what I got! Again, my stylist listened to everything I said/asked for and pulled straight from my Pinterest board. I asked for colored skinny jeans, the exact funnel neck sweatshirt, another urban expressions bag, told her I was lacking purple in my wardrobe, and she knows from previous fixes that I like plaid. As you can see, I got what I wanted! However, even though they were all things I really wanted and thought I would love....they turned out not to look so great on me...
I think a lot of it had to do with my overall feeling that day. I was tired and didn't look that great, so my initial reaction was that nothing looked good on me. A few hours later I looked at the pictures I had taken and I really liked some of the pieces, so I decided to try everything on again the next day and make more of an effort to style the pieces the way I would wear them, instead of just throwing them on.
1.
Urban Expressions Andover Bowler Bag in burgundy
:
Initial reaction:
I like the color, but the bag felt too big for me. Don't get me wrong, I love a big bag, but this one felt "slouchy" when I sat it down and looked too big on my arm.
Next day:
My feelings towards the bag didn't change. It just wasn't for me. I like a little more structure, like my first Urban Expression bag. RETURN
2.
Just Black Winslette Skinny Jeans in burgundy:
Initial reaction:
A bit snug in the hips, too long in the legs and too long in the crotch. I love the color and love them paired with the flannel and riding boots so I emailed customer service to see if the would be available in a size up and in petite.
Next day:
Turns out I don't know what I was doing the first time I put these on. They have a high waist....so if I just pulled them up to wear they were supposed to sit, it solved the fit in the hips and crotch. However, I felt like they wrinkled weird at my knees...but if wear them with boots will people really stare at my knees?! Still completely undecided as to whether or not I want to keep these.
3.
Market & Spruce Colibri Plaid Tab-Sleeve Shirt:
Initial reaction:
I love plaid and don't have anything in these colors, so I liked it. It's also very soft, but thinner. I can't decide if being thinner is a positive or negative. I'm leaning towards positive because I could probably layer it with a vest if I wanted to. It's also a little long so I could possibly wear it with leggings.
Next day:
I still really liked this top, especially with the burgundy jeans. UNDECIDED
4. Loveappella Evie Draw String Funnel Neck Sweatshirt in navy:
Initial reaction:
I wanted this sweatshirt soooo bad...and I got it! Then I put it on.... I didn't do much for me that's for sure. I felt slouchy and unkempt. But the neck part was cute.
Next day:
I liked this top so much better when I tried it on with my hair up and boyfriend jeans on. I guess I just needed to commit more to the casual look. Despite liking it so much more, I'm still...UNDECIDED.
5.
Brixon Ivy Sylvester Split Neck Blouse in purple:
Initial reaction:
Love the color! It's a looser top so I think it made be feel a little sloppy again. But there's been plenty of times where I scour my closet looking for a blouse, and can't find one or go for looser (often Stitch Fix tops). This too could be long enough for leggings.
Next day:
I put this top on with boyfriend jeans too and I liked the "looseness" of the top a lot better that way. But just like the rest of my fix...I'm UNDECIDED.
What do you think of my fix? I've never been so undecided on what to keep before! Want to give it a try??? Click
here
to get started.
Thanks again for another week of orders! Don't forget to stop by next week's open day!