Whether you love it or hate, Valentine's Day will be here soon! The good news....even if you don't like Valentine's Day, who says you can't enjoy some cupcakes?! Valentine's Day is always a very busy time for Steph's Sweet Treats, so I hope this year is no different. Since it's on a Sunday, I was a little concerned about how to do my open day.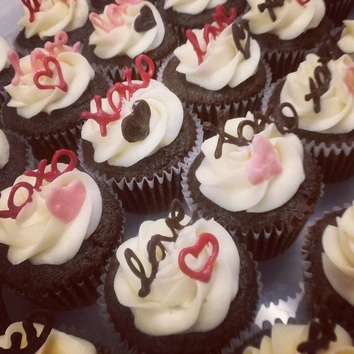 Ultimately, I decided to go big, and do two days (Friday and Saturday)! So here's the scoop on the open days and for those of you wanting to place orders for Valentine's Day.
Each day has a separate event page. If you plan on stopping by one of the days, please visit the appropriate event page and click "going." I try to use these numbers to figure out how many cupcakes I will make, so please let me know you will be stopping..the more attendees, the more cupcakes I make!
Friday's hours will be normal open day hours- 6:30am-5pm (or until sold out). I will have more cupcakes available Friday than I will for Saturday. Once the allotted cupcakes are sold for Friday, I will close shop and reopen Saturday from 8am-3pm. The flavors will be
: decorated vanilla and chocolate, vanilla raspberry, red velvet, chocolate chip cookie dough, chocolate peanut butter, champagne, cookies n cream, chocolate covered strawberry, mint chocolate chip, GF birthday cake, and death by chocolate. There will also be cutout cookies and brookies.
Here is the event page for Friday-
Friday's open day
Here is the event page for Saturday-
Saturday's open day
A lot of times people like to order ahead for Valentine's Day. I am limiting what you can pre-order...mostly for my own sanity and because of the amount of time it takes to get all the orders ready in the midst of getting everything else done. (There's not enough hours in the day!) If you are ordering for Valentine's Day you can get:
-Cupcake bouquet (7 cupcakes) in vanilla, chocolate or red velvet-Pre-pack #1: 2 decorated vanilla, 2 decorated chocolate, 2 red velvet, 3 vanilla raspberry and 3 chocolate peanut butter-Pre-pack #2: 3 chocolate chip cookie dough, 3 chocolate covered strawberry, 3 champagne, and 3 mint chocolate chip-Cut-out cookies
Cutoff for pre-orders is February 5
If you want 4-packs, 6-packs, or 12-packs mixed with different flavors and quantities, you must come in to do so; you cannot pre-order anything other than the four items listed above. Sorry for the inconvenience, but it gets way too crazy and time consuming to pull all sorts of custom mixed 4, 6, and 12 packs, especially for Valentine's Day since there are even more orders and so many flavors.
So please click "going" in the day you plan on attending; pre-order by February 5 if you plan on doing so; only pre-order from the list above; and don't forget to share the events with your friends on Facebook and by word-of-mouth!
Thanks again for another week of orders and for making last week's open day a huge success!