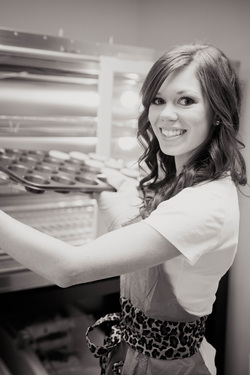 I've been wanting to start a blog for awhile now, and I've finally taken the time to actually do it! Why have a blog for a bakery? To give everyone a little insight to the bakery life, post fun things about the bakery, and give everyone a little peek into my life. I find that baking for people's special events, whether it's a birthday or a wedding, to be very special. If I'm really lucky, I will get to follow some of my customers lives through baking. First their wedding, then gender reveal cupcakes, baby shower, birthdays, anniversaries, etc.
Now that I have been open for more than a year I'm getting to know my regular customers a little more. So why not give you the chance to know me? For this first blog post let's start with some things you may not know about me.
I'm an only child. What...no siblings?! Yes, it's true. I'm an only child. Pssst...not only am I an only child...I'm also a lefty! I hated being an only child growing up and often sought companionship in my pets and books (I lived in the boondocks so there wasn't much to do). Now that I have grown up...for the most part...I actually like being an only child. Living in the country as an only child didn't make for the most exciting childhood, but I think I grew up faster, learned to be creative, and it may even be what led me to baking. Like I said, there wasn't much to do....so I dug through cookbooks and started baking! And here I am today. So I guess I owe my parents an apology for all the complaining I did about being an only child. Sorry mom and dad!
Baking is not my only job. When I opened Steph's Sweet Treats I didn't like to tell people I have another job because I didn't want people to think I had other priorities. My parents co-own a company that I help out at when I can. Key words here being: "when I can." Steph's Sweet Treats is a by order bakery, not because I have another job, but because it's not realistic at this point for the area to sustain more than one full time bakery. Plus, I like to be different! I create a demand by doing the once a month "Open Days" and requiring people to order the rest of the month. It draws a crowd, has been great for me so far, and you can ALWAYS order. I'm the only person running and baking at Steph's Sweet Treats, so baking by order and creating events is what works for me. When I don't have an order to fill, I help my parents out. I am there less and less these days, which means my customer base is only getting bigger and better.
I baked for my own wedding. I got married last year and made my own cupcakes! (Fun fact: I married my high-school sweetheart) Some people thought I was crazy. I got engaged, planned a wedding, planned a business,then opened a business... all in the same year. Of course I made my own cupcakes! My friends and family are the people who got me where I am today. I baked for their weddings, birthdays, and special events before I opened. They are the very people I got my courage from. So why wouldn't I treat and thank them with my cupcakes on my wedding day?? Plus, I'm a little Type A...okay, a lot Type A, so I had to make my cupcakes! :)
I got called by Food Network. Even typing this makes me get excited all over again. I wrote for a website for a few years (Gossipandgab.com go check it out!) and just recently stopped because of all the orders by amazing customers have been placing. Once again, can't say thank you enough to everyone. Okay, back to Food Network! My editor sent me a link to a baking competition show Food Network was seeking auditions for. I smiled and laughed, not thinking I had a chance, but I applied anyways just for giggles. To my surprise, I got a phone call from a Food Network talent person asking me if I would be interested and available. This phone call came during one of my open days and I swear I was in hyperventilation mode for the rest of the day. I COULD NOT believe they ACTUALLY called ME! ME! After freaking out a little, I had my application, pictures, and information forwarded on to the producers. I obviously didn't hear from the producers, or you would have seen me on TV :) , but getting a phone call from Food Network was the icing on the cake. Pun intended. I never thought, in my wildest dreams, that I would own a bakery, let alone get a phone call from Food Network. Getting some talent acknowledgement from Food Network was truly amazing. Thanks a million to my editor for passing along that email! I haven't seen the show I applied for air yet, so I don't know if the producers didn't choose me or if they just didn't move forward with the show. Either way, it was a win in my books!

Feel like you know me a little better now? I don't want to give away all awesomeness all at once, so I'll save the rest for later. Totally kidding about all my awesomeness. I'm just a simple girl who gets great satisfaction from making others happy through baking. Thanks for reading everyone!