It's been a busy couple of weeks over here at Steph's Sweet Treats, and it's only getting crazier now that we are fully in gradation and wedding season. But you all know by now that I love the craziness. I thought I'd take a minute to recap some of the great events I have been a part of the last few weeks-I hope you have all been able to enjoy them!

Wisconsin Grilled Cheese Championship- This event gets bigger and better every year. I knew I didn't have enough cupcakes going into the event (I had a lot weekend orders, a wedding, and wedding delivery), but I would have never guessed that I would sell over 300 cupcakes in two hours! I literally felt like I was slinging cupcakes left and right. Next year I hope to have a LOT more cupcakes available! On the bright side, selling out gave me time to grab some amazing food truck food- cheese curds and a panini!

Little behind the scenes tidbit: I got back from a wedding delivery just in time to run this event! My mom did my morning pickups for me at my shop while my dad went with me to a wedding delivery. It was a long way from Dodgeville and somewhere I had never been before...my dad didn't need to go with me, but boy oh boy am I glad he did! I had no idea where I was going...even though I wrote down directions and tried mapping on my phone...if he wasn't there I probably would have ended up in Minnesota or something crazy! My husband set up the cupcakes and manned my station until I was able to get there. From there, I took over tossing cupcakes to everyone while my mom collected money for me. It was a true family effort that day!
Sip and Savor-Taste of Southwest Wisconsin. This event was put on by Upland Hills Health as a fundraiser. It was the first year for the event and it had a pretty good turnout! The weather was warm and the food and music were good! I hope this is an event that continues, and in turn grows year after year. It was nice to see local restaurants all in one space.

Little behind the scenes tidbit: I was in a hurry (like usual) and completely forgot to bring a snack or even water with me. Thankfully, the Grumpy Troll booth next to me had water...and delicious Sunflower Beer; and my husband stopped by with Wyatt so I could see them and grab food from some of the other stands.
White Oak Savanna Grand Opening- This event took place over the weekend...despite a very rainy and dreary day, they had a great turnout! Attendees got to tour the land and venue, do a free yoga session, get food, drinks, and cupcakes, and listen to live music. If you don't know, White Oak Savanna is a farm located just outside of Dodgeville that has been newly remodeled and will now host things like corporate events, concerts and weddings.

Behind the scenes tidbit- Of course....once again I was in a hurry. My husband did a morning wedding delivery while I did weekend pickups at my shop; I ran all my goodies out to White Oak Savanna; I then did a wedding delivery with Wyatt while my husband set up the cupcakes at White Oak Savanna...and I once again arrived just in time to run my booth...without a coat! Do you remember how chilly it was on Saturday?! The thermometer didn't say it was very cold...but let me know tell you-I was mighty chilly. Don't worry, I got scolded by plenty of attendees! ​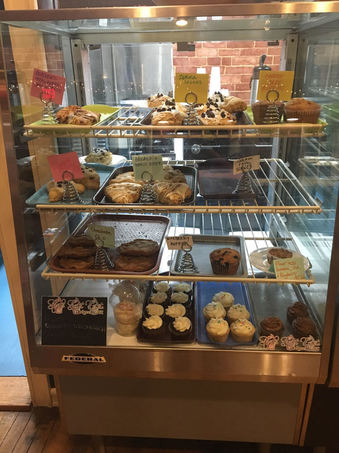 As you know from previous blog posts (or if you follow me on Facebook and/or snapchat- stephsweetreats- you know that I've been baking some things for Cobblestone Coffee House in town. I'm so grateful for the opportunity to spread the word of both our businesses and have loved the freedom they have given me to do whatever I'd like. I hope you have been stopping there for your morning coffee, breakfast, lunch and a treat!
​Some local vendors have created monthly
Ladies' Nights
that also take place at Cobblestone Coffee House. Various local vendors/consultants set up, you stop in and shop, grab some Steph's Sweet Treats (I make sure the cases are stocked up for you!) and enjoy wine from the wine bar. You should definitely check it out!
Don't forget about my next event...the one that is near and dear to my heart-
Steph's Sweet Treats Customer Appreciation Day!
! Mark your calendars, invite your friends-spread the word. Most importantly.... stop and enjoy yourself-I want to thank each and every one of you for getting me and this business to the place it is today (and hope and push for even more growth).
Thanks for another week of orders! And thank you for helping Steph's Sweet Treats win in three categories for the Best of the Best of Iowa County!