Believe it or not, the holidays are already here! If you haven't started Christmas shopping yet, don't panic....in fact, read on and you'll get some great ideas! There's always those people in life you have no idea what to get. What do you give those people??? Steph's Sweet Treats goodies of course!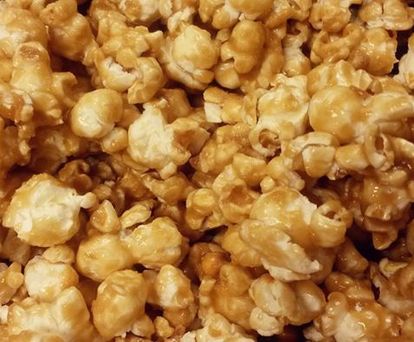 Let's start with Steph's Sweet Treats food gifts!

-Caramel corn! This is an item that I just added to the menu. It's actually the caramel corn I grew up on. My mom would make it at Christmas and I would eat it until my stomach hurt...ok...so I still do that. Give a tin of caramel corn for a gift, or just get one for yourself! Due to the way I make caramel corn, all orders will need to be picked up the week of Christmas, instead of a tin here and there. Don't get me wrong...I would love to eat all the extra if I only put together one tin here and there throughout December...but in an effort to not eat 10 pounds of caramel corn on my own, I'm planning on doing them the same week.

-Gift baskets- Want to really spoil someone with Steph's Sweet Treats goodies? Get them a treat filled gift basket. Baskets can be filled with cupcakes, cookies, caramel corn, quick-breads, etc. You can order a gift basket one of two ways. You can give me a price point and I can give you a few different "filling options" to meet that price, or you can tell me what you want in the basket and I can tell you how much it would be.

-Cupcakes- Don't forget about the cupcakes! Cupcakes are always a great gift. Better yet...do you have a holiday work party or clients that you usually get goodies for? Why not order from Steph's Sweet Treats this year?!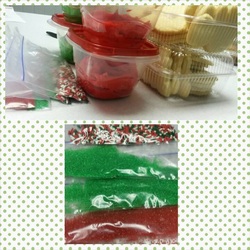 Cookie Decorating Kit
I came up with this after a customer wanted to only decorate cookies, not bake them. So I can't take full credit for this fun idea, even though I'd like to! Anyways...last year it was a real hit!

Cookie decorating kits! These can be a gift or just really fun to do with kids, grandchildren, nieces and nephews, friends, etc. You get 2 dozen cookies, 3 colors of frosting, and 3 kinds of sprinkles for $22. So you can have all the fun of decorating without the baking! I'll gladly do that part for you.

Speaking of the fun without the baking. If you have a cookie exchange to attend but don't the time, energy, or desire to make 10 dozen cookies...call me!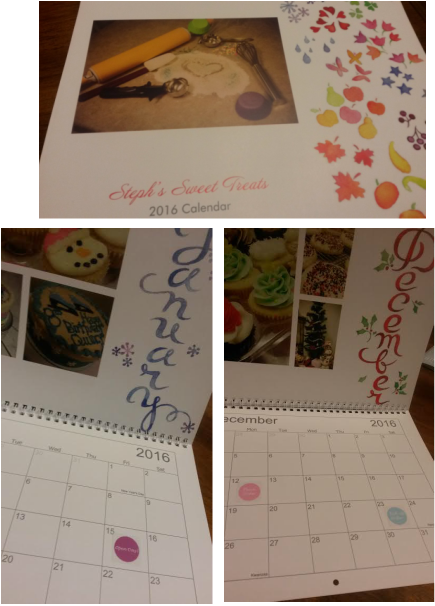 Steph's Sweet Treats Calendar- I created a Steph's Sweet Treats calendar that has pictures of various orders and events throughout the year. I also created stickers that go with the calendar. With the purchase of a calendar you get 12 "open day" stickers (so you never miss one!), 6 "place order" stickers and 6 "pick up order" stickers so you can remind yourself of your orders. I was originally selling these for $20, but I was able to get a really good deal on them by using coupon codes and early black Friday codes, so they will only be $12! So if you order now you can get one for $12...if I have to reorder more, they will go up in cost a bit since I don't have the really good deal anymore. So what I'm saying is...get one now so you get the deal before they are gone! I am not selling these for a profit, just selling them for what I paid for them.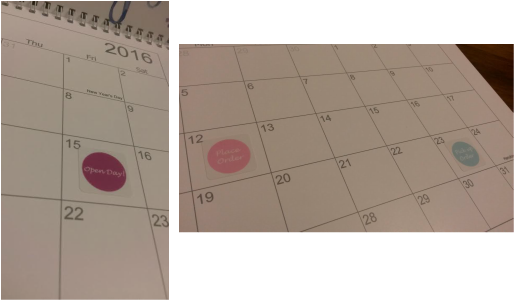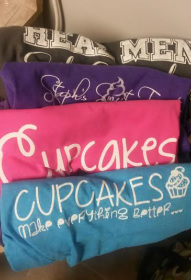 Steph's Sweet Treats apparel- I have a variety of Steph's Sweet Treats shirts available at my shop for $9. Just like with the calendars, I do not sell the shirts for a profit, I sell them for what I paid for them. I even cover sales tax on my own instead of adding it to the price of the shirts. You are advertising and showing your love of Steph's Sweet Treats after all! If you want a specific color, size, or want something other than the T's I have in the shop please let me know and I can place an order before Christmas. I have the styles to the right in my shop. If I were to order, it would just be the Steph's Sweet Treats tag line (like the purple shirt to the right).

Some other styles I have an would recommend would be:
-Long sleeve hooded T- $17
-Sweatshirt- $29-35 depending on the style
-Bag- I have pink and purple and they are $8


Don't forget about gift certificates! I hope you have a few gift ideas for the season and I hope Steph's Sweet Treats can be a part of your holidays! Whether it's through a gift, work party, or your own holiday feast.

Thanks for another week of orders, have a great Thanksgiving, and don't forget to swing by the December 4th open day! Psst....make sure you check the Steph's Sweet Treats facebook page on Small Business Saturday.....BIG giveaway coming your way! SOOOO excited about it!